Great changes in 1917






The Journal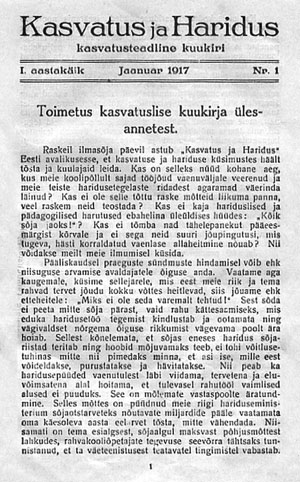 In January 1917, the first Estonian educational journal was initiated by Peeter Põld. It was called "Child Raising and Education" and was intended as a means of discussing educational issues in which the main principles for public schools were presented:
● First of all, the schools have to meet the educational requirements of the local people;
● They have to be accessible and compulsory for all children;
● They have to take the individual differences of children into account and develop their potential capacities;
● Schools and homes have to collaborate in raising and educating children.

In addition to scientific articles on the topics of education and psychology, the journal also presented reviews of the First and Second Congresses on National Education convened in 1917.

In 1917, six issues of the journal were published, three of which were double issues. The last double issue and also the first issue of 1918 were published in early 1930 due to the political situation in the country.


Photo: The journal "Child Raising and Education". Estonian Educational Archives-Museum


The Teachers' Union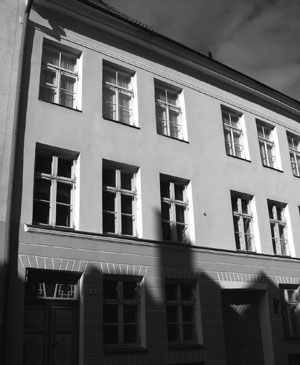 The first attempts of Estonian teachers to establish an association date back to the period of the awakening of national consciousness. Although an independent teachers' association was not yet established, the Society of Estonian Literati, founded in 1872, became the venue for teachers to meet. During the time of Russification the society was disbanded and teachers' congresses were banned, as they were considered highly suspicious meetings by the authorities. Only after the Revolution of February 1917 were activities of that nature resumed.
In March of that year, teachers' associations were established in Tallinn and Tartu and shortly thereafter in other towns and districts.

From April 7th to 9th, Peeter Põld and the Estonian Society for the Education of Youth organized the first Congress of National Education in Tartu. The idea of organizing a teachers' union was presented at this congress. At a meeting in Rakvere on May 27th (May 14th according to the old calendar) the statute was confirmed and the Central Union of Estonian Schoolteachers was formally established. After 1919 it was called the Estonian Teachers' Union.

Peeter Põld was elected the first chairman of the Central Union of Estonian Schoolteachers.

Photo: The Estonian Teachers' Union at 11 Pühavaimu Street, on the premises of the Tallinn Teachers' Association. Estonian Educational and Archives-Museum


The Second Congress on National Education was convened in Tartu by the Central Union of Estonian Schoolteachers and took place June 20th to 23rd. The Union issued the following decisions on the organization of Estonian schools:
● All instruction was to be delivered in the mother tongue;
● All schools were to be democratic (common and general schools);
● All schooling was to be based on the foremost scientific educational principles;
● Schools were to be free from politics and other unnecessary duties;
● Schools were to be staffed by voluntary, well-trained teachers who were willing to participate in professional development.


National Government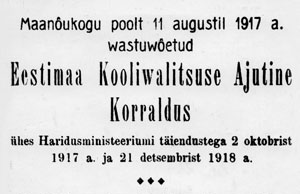 At the end of March, 1917, the Provisional Government of Russia decreed the union of the territory inhabited by Estonians into the Estonian "Gybernya". At the end of May, elections to the Parliament (Maapäev) took place and a national government was formed. Estonia thereby gained virtual autonomy.

On July 20th, 1917 (according to the old calendar), Peeter Põld was elected head of the Maapäev Department of Education, as noted in the minutes of meeting no. 13 of the Board. The topic of schools among other issues was on the agenda of the August 2nd meeting of the Board. Peeter Põld drafted an outline of the Estonian School Board for the organization of education in Estonia, which was based on:
● decentralization – all school-related issues were to be decided locally whenever possible;
● collegiality – all of the people interested in education should be involved in the discussions and decision-making;
● educational inspections were to be separated from economic problems related to the operation of schools.

All of the local community and district governments obtained broad rights to organize and manage their schools according to that decree. The Maapäev Department of Education (Ministry of Education) was tasked with providing the general leadership and management of national education.
The above law was the basis for the organization of education and schools and was in force until 1940.

Photo: Draft outline of the Estonian School Board for the organization of education in Estonia, Estonian Educational Archives-Museum