From 1875 to 1912 Peeter and Juliane Põld lived in the Puru schoolhouse. The aesthetically-minded mistress of the household did not like untidy school environments. Home improvement was not yet popular at the end of the 19th century. However, the young couple applied their energy to beautifying the inside and outside of the schoolhouse and many farms in the neighbourhood followed suit.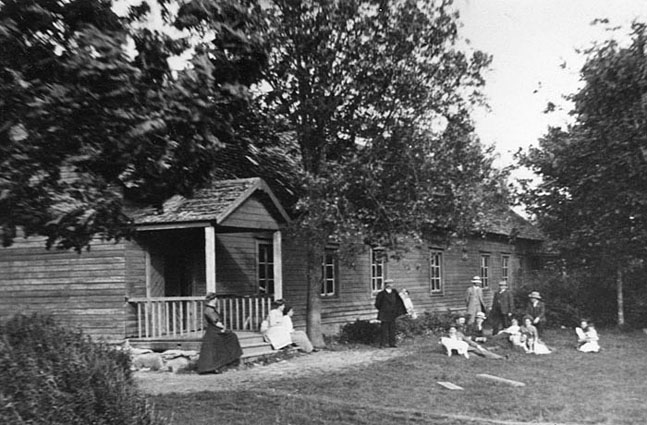 Puru schoolhouse (1912). Private collection
Peeter and Juliane Põld brought up ten children – five sons and five daughters. The eleventh child died in infancy. Besides Peeter, the third child, the oldest son Harald (1874 – 1939) also became well known as a clergyman and translator of the Bible, and as a developer of the Estonian language. He was the author of several books on grammar.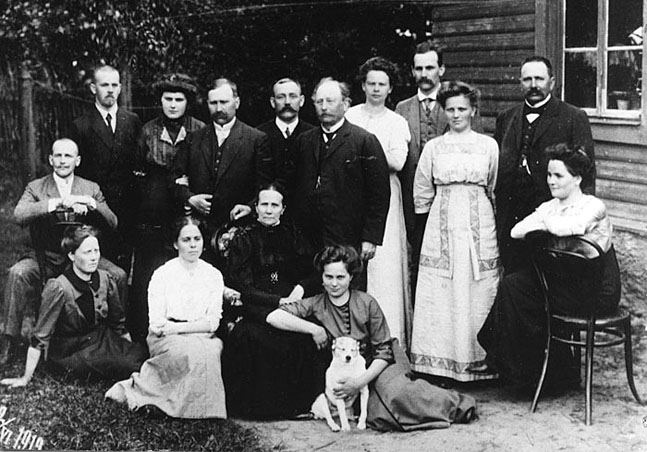 The family of Puru teacher Peeter Põld in 1912. Private collection
Growing up in a big family develops early social approach in children, which has clearly contributed to becoming good co-workers and companions. They have never felt lonely, the company of their peers has always been their field of activities and success. They have never suffered from clumsiness, inability to communicate with others and problems with adjustment which often characterises children grown up in small families. They have always felt free and confident in all their performance.


A. Aret. Peeter Põld – a guide for Estonian education. IN: Peeter Põld reflected in his time. Compiled by H. Muoni. Tartu University Publishers. 1996, p. 11.

Peeter's childhood was rich in experience and spiritual sustenance; he worked hard but there was also enough time for play. The brown eyed Peeter was a lively and bright boy, particularly receptive and observant of his surroundings. Peeter inherited sensual appreciation from his mother and a strong will from his father.

He received his primary education from his father, who taught in Estonian in the local village school. His early years at the Puru schoolhouse provided a broad and solid foundation for his future life.