First Call for papers
ON-LINE PROPOSAL FORM
4th scientific conference for MA and PhD students
The Changing Face of Music and Art Education
Yesterday, Today, Tomorrow
CFMAEYTT2011
Tallinn University, April, 19–21, 2011
3rd scientific conference for MA and PhD students
"Music education yesterday, today, tomorrow"
MUSIC AND THE ARTS.
Education yesterday, today, tomorrow
Tallinn University, APRIL, 15–17, 2010
Dates and registration
Papers and abstracts
Program
Proceedings
Accomodation
Sponsors
CFME09 SCHEDULE 25.04.2009 (PDF)
CFME09 FEEDBACK/TAGASISIDE 29.04.09 (PDF)
Muusika ja keskkond. TUTVUSTUS
Muusikakasvatus muutumises. TÖÖTOAD 23.-25. aprill 2009 (PDF)
Muusikapsüholoogia kursus / Music psychology course April 20–22, 2009 (PDF)
FULL PAPER conditions
Accomodation, locations, distances

Concert and Presentation-Workshop with American and Estonian Contemporary Music 24.04.2009 (PDF)
Norway-Tamili-Estonian-Children-Concert 23.04.09 (PDF)
-- free entry to all concerts --

John A. Sloboda (Professor of Keele University, UK)

Lecture in the framework of Music psychology course 23. aprill 12.00 Lai 13-208
John A. Sloboda "Assessing the capacities of the self-defined tone-deaf: Deconstructing a myth" (pps)

Public lecture 23.aprill 16.00 U-213
John A. Sloboda "Sustainable security and its implication for politicians and people" (pps)

The main topic of the 2nd International Conference on Music Education is environment. In a very broad sense, the concept of environment can refer to mental, cultural, social, or the physical environment, which in turn, can be created, reflected, and integrated with the music and different music activities. The aim of the conference is to emphasize the importance of the environment in music education or closely related fields and to generate further ideas as to how knowledge of the environmental aspect can enhance the quality of our everyday praxis.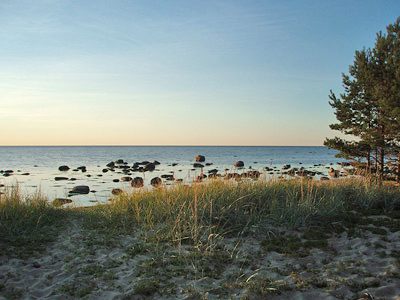 The conference will be practice-oriented. Although the methodology and approach of the papers are not limited, the most welcome submissions will demonstrate the practical applicability of the relationship between music and environment.

Joint presentations by two or more authors are also welcome. These submissions could be interdisciplinary research, for example between different scientific and/or artistic fields including music and performance, music and dance, music and arts. The language of the conference is English.

One of the underlying aims of this conference is to limit the exploitation of environmental resources of nature. We strongly encourage the use of digital possibilities of presentation and internet-streaming for disseminating the material of the conference. We would prefer there to be no printed materials.
Main fields
Music education and pedagogy
Music sociology, psychology and cognition
Music history, philosophy, aesthetics and semiotics
Music performance, analysis, theory and composition
Inter- and transdiciplinary researches

Roundtable discussion
Environment and music education
Environment, music and visualization

Keynote speakers
John A. Sloboda (Keele University, Keele, UK)
Mario Baroni (University of Bologna, Bologna, Italy)
Pozzi Escot (New England Conservatory, Boston, USA)
Robert Cogan (New England Conservatory, Boston, USA)

Main coordinator
Tallinn University, Institute of Fine Arts, Music Department

Organizing committee
Tiina Selke (Tallinn University)
tiina.selke[at]tlu.ee
Kerri Kotta (Estonian Academy of Music and Theatre, Tallinn University)
kerri.kotta[at]mail.ee
Gerhard Lock (Tallinn University, Estonian Academy of Music and Theatre)
gerhard.lock[at]tlu.ee
Jaan Ross (Estonian Academy of Music and Theatre, University of Tartu)
jaan.ross[at]ut.ee
Andres Avarand (Tallinn University)
avarand[at]tlu.ee

Homepage
Gerhard Lock
gerhard.lock[at]tlu.ee
Livia Jakobson (Tallinn University)
livia.jakobson[at]tlu.ee

----------------
CFME09 ONLINE FORUM
http://cfme09.phpbb.net

How to register?

Participants of CFME09 please register with username:
CFME09FirstnameFamilyname

Video Live stream participants, who want to comment online please register with username:
FirstnameFamilyname

Technical support: gerhard.lock@tlu.ee, jevgeni.suits@tlu.ee
----------------
CFME09 SCHEDULE 25.04.2009 (PDF)
CFME09 FEEDBACK/TAGASISIDE 29.04.09 (PDF)

Muusika ja keskkond. TUTVUSTUS
Muusikapsüholoogia kursus / Music psychology course April 20–22, 2009 (PDF)
Muusikakasvatus muutumises. TÖÖTOAD 23.-25. aprill 2009 (PDF)
FULL PAPER conditions
Accomodation, locations, distances

Concert and Presentation-Workshop with American and Estonian Contemporary Music 24.04.2009 (PDF)
Norway-Tamili-Estonian-Children-Concert 23.04.09 (PDF)

2nd Call for papers