Doctoral School of Educational Sciences
All doctoral students have the right to belong to the Doctoral School of Educational Sciences. The Estonian Doctoral School of Educational Sciences is a project aiming to improve doctoral education and educational sciences in cooperation between the partners - University of Helsinki, University of Tartu and Tallinn University.
The School: 
offers and mediates training opportunities;
compiles information materials;
conducts evaluation of doctoral students and advance reviews of doctoral dissertations;
organises academic work;
consults and informs students.
The aim of the Doctoral School of Educational Sciences is to guarantee the level of quality of doctoral studies and dissertations established in the Estonian Republic and to support the continuous development of educational sciences to meet the needs of Estonian education.
The functions of the Doctoral School of Educational Sciences are:
organizing doctoral studies in educational sciences by following commonly established principles, coordinating research at the doctoral level, acting as an information and counselling centre for doctoral students, coordinating cooperation between universities and research establishments of Estonia and other countries;
the school fulfills the Educational Sciences PhD curriculum.
---
The project is funded by European Union through European Regional Development Fund.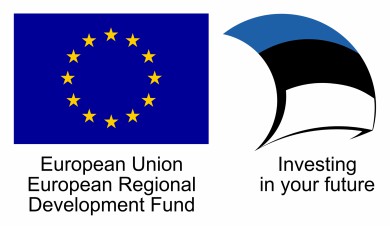 1. Õppevaldkonna-spetsiifilise koostöö arendamine
Näiteks erialased ühisseminarid, intensiivkursused, talve- ja suvekoolid, doktorantide konverentsid. Eesmärk on kaasa aidata doktorantide rahvusvaheliste ja interdistsiplinaarsete suhtevõrgustike loomisele; arendada avaliku esinemise oskusi, interdistsiplinaarse koostöö oskust ja teisi ülekantavaid pädevusi ning aidata orienteeruda teadusmaastikul laiemalt.
2. Erialase ja erialade vahelise teaduskommunikatsioonioskuse arendamine
Näiteks erialase eneseväljenduse oskuse arendamine, akadeemilise kirjutamise ning eesti keeles populaarteadusliku kirjutamise arendamine, doktorantide teadmiste laiendamine autoriõigustest ja IO kaitsest; teadmussiirdest. Tegevusi kavandatakse doktorikoolide koostöös.
3. Doktoriõppe ja tööturu vastastikuste seoste laiendamine
Tegevused, mis toetavad koostööd tulevaste tööandjatega – avaliku sektori ja ettevõtlusega. Näiteks doktorantide projektid ettevõtetes, infopäevad, uurimisteemade "talgud" ettevõtetega, aga ka era- ja avaliku sektori (nii kodumaise kui ka välismaise) kaasjuhendajate ja konsultantide kaasamine (sh tasu maksmine).
4. Tegevused õpetamis- ja juhendamisalase pädevuse tõstmiseks doktoriõppes
Näiteks: koolitused, aruteluseminarid, hea praktika vahetamine jms. Tegevusi kavandatakse doktorikoolide koostöös nii mõistlikuma korralduse (rohkem osalejaid) kui ka interdistsiplinaarsuse väärtustamise eesmärgil.  
5. Teaduse ja doktoriõppe populariseerimisega seotud tegevused
Tegevused, mis on suunatud nii doktoriõppe ja teadustöö populariseerimisele võimalike tulevaste doktorantide leidmiseks kui ka laiemalt teadlikkuse suurendamiseks era- ja avalikus sektoris, näiteks magistrantide kaasamine doktorikoolide tegevustesse (suve- ja talvekoolidesse).