Adult Education for Social Change (International Master)
Adult education is recognized in Europe as a critical element in addressing the key international economic and social challenges of our time. This joint degree is delivered and awarded by four partners within the consortium: the University of Glasgow, the University of Malta, the Open University of Cyprus and Tallinn University.
---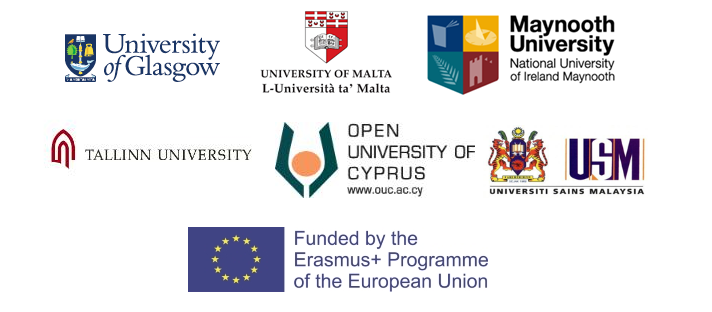 You will take 9 core and 2 optional courses as well as submit a dissertation. The programme also includes three adult learning placements. Courses are delivered in Glasgow, Malta and Tallinn. The Open University of Cyprus courses will be delivered at Malta and Tallinn as online courses. The programme also has a choice of optional summer schools in Canada, at University of Toronto and in Penang at University Sains Malaysia.
You will have three (possibly four) mobility periods, having the opportunity to spend a semester and a summer at the partner universities. The programme has been designed so that students benefit from the specific expertise of each of the partners and have a short placement built into each of the mobility periods. The programme ombines the following expertise of Adult Education in the following contexts and mobility periods
Semester 1: September - December (Glasgow); Community learning/city regeneration environments + placement
Semester 2: January - May (Malta); Refugee environments including English language teaching to migrants in times of austerity  + placement + research methods (online with Cyprus)
Summer (optional): June - August (Toronto); Work-based learning + placement OR June - August (Toronto); Peace studies + Sustainability
Semester 3: September - January (Tallinn); Recognising prior learning and professionalising the role of adult educators + placement + teaching adult education online (online with Cyprus)
Semester 4: February - July (Glasgow, Malta or Tallinn, depending on focus of dissertation)
Core courses
Year 1
Adult education and social difference
Adult learning placements (1 & 2)
Curriculum development in adult education
International issues in adult education
Introduction to adult education
Practical aspects of adult education
Psychology of adult learning
Research methods (online).
Year 2
Adult learning placement (3)
Social competencies of adult education
Teaching adult education online
Theories of change.
Optional courses (summer mobility in Toronto)
Developing high performing work teams
Power and difference in the workplace
Workplace learning and social change.
Optional courses (summer mobility in Penang)
Peace studies
Sustainability.
Students (funded and fee-paying) should be aware that the programme involves a minimum of 2 flights once you have arrived at Glasgow and the respective cost of air travel which could include including the following flights. Airfare is not included with tuition fees.
Glasgow to Malta
Malta to Tallinn OR via a choice of optional summer schools in Toronto or Penang
Tallinn to Malta or Glasgow (if not based in Estonia for your dissertation)