Joanna Rutkowska created a tool to transfer the results of designers' work to business.
At the end of October, Joanna Agata Rutkowska from the School of Digital Technologies defended her doctoral dissertation on "Actionable service design deliverables. Supporting service designers in empowering their business clients ". Read more in the interview.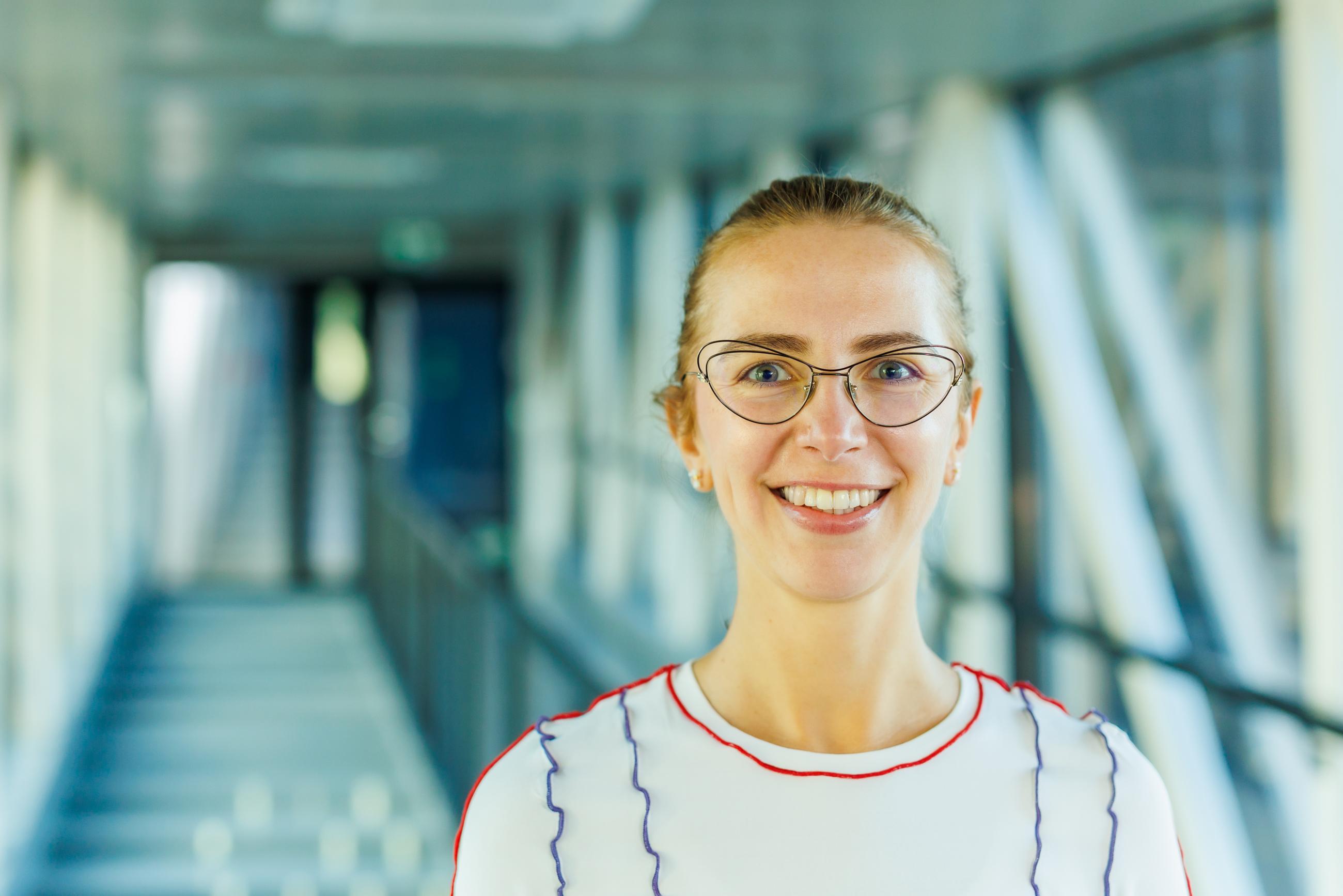 Joanna Rutkowska acts between design and research, business and education, technology and art. She is a computer science graduate and her interest in human-computer interaction has driven her towards a career in design. Her ambition is to provide actionable knowledge to her students as well as clients. Her cooperation partners include, but are not limited to: corporations, public institutions, and startups, including Play, Tatra National Park, and iTaxi.
Why did you choose Estonia and Tallinn University for your studies?
In 2013, I participated in the CHI conference in Paris, the premier international conference on Human-Computer Interaction. During the event, I met Prof. David Lamas, who shared doctoral study opportunities in Tallinn with me. So I decided to take part in the recruitment process and got in! I've never been to Estonia before! 
The twist of fate decided about my studies at Tallinn University.
Simply put, what is your research topic and how will the results of your work benefit the target group?
Services, such as telecommunications, banking, and e-commerce dominate today's economy. The ambition of businesses is to develop and deliver services that maximize profits. Historically, services were designed by people without a background in design. But now, they are the focus of designers, whose profession centers developing solutions that meet human needs. As part of my doctoral project,  I created a tool for transferring the results of designers' work to business.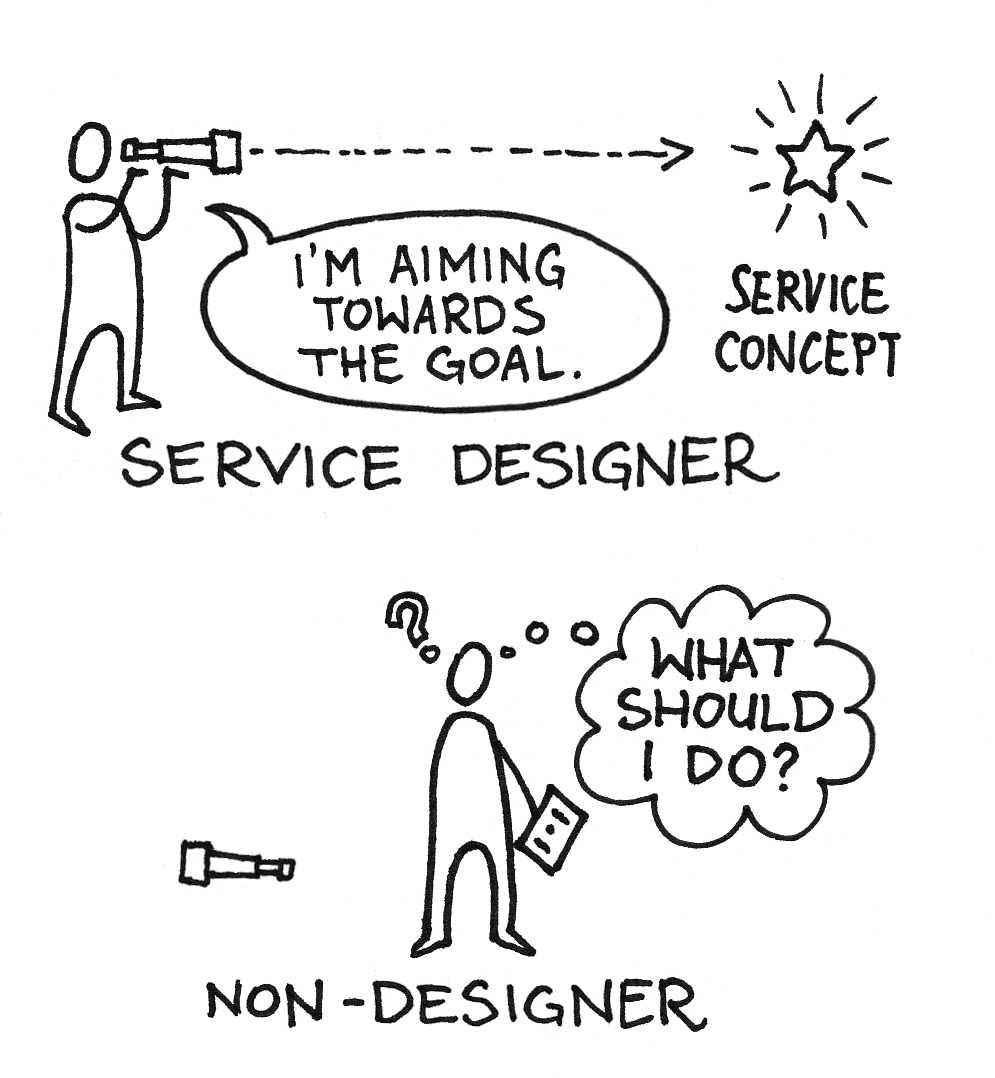 Conception by Joanna Rutkowska. Illustratsion by Wiktor Kaminski.
 
How did you find your way to your research topic during your studies?
In 2013, when I was working as a service designer in Play Telecom in Warsaw in Poland, I was part of a project aiming to create a mobile service offering for young children. When we were exploring the packaging options for a mobile service offering for kids, I was struck by the engagement and excitement of business stakeholders about the prototypes. They were coming to us to play with the prototypes, touch them, or share their opinions. Moreover, these prototypes disseminated information about the project within the organization and brought together people from various departments. 
This professional experience aroused my curiosity to explore the potential of design materials such as prototypes to support the business role. Therefore, my service design practice originated my research process.
Writing a doctoral dissertation is definitely a challenge that needs constant self-motivation. During this journey, what were your hacks to keep on working to successfully reach the end result?
The journey towards a Ph.D. can be straightforward, joyful, and let you evolve, or, quite the opposite, long, winding, and full of dead ends. Mine was complicated, included inner transformation, and tested my determination.
I didn't apply any specific hacks to keep myself motivated in pursuing the doctoral project. However, a to-do list helped me a lot in the writing process. The tasks of my to-do list were granular, so I was able to complete a new chunk of my dissertation daily. Seeing the progress was satisfying and encouraging to continue the process.
Describe some memorable event that happened while writing the dissertation.
I was writing my thesis in Google Docs to share it easily with my supervisors. When the first draft was completed, I decided to print it out. It was a great and memorable moment to get the result of my work tangible!
How does your research change the world?
My doctoral research is set in the context of designing services that are dominant in today's economy. Today, designers are in the profession of solving complex problems. They have to know how to learn from others, communicate the outcomes of their processes to non-designers and manage the co-designing of complex social or technical systems.
The novelty of this doctoral research is embedded in the discussion regarding transformative aspects of design outcomes. The research developed a set of actionable attributes and qualities that invite service designers to transform their outcomes into forms that are, for instance, memorable or experienceable, if that would be essential for service implementation and business context. 
Therefore, my research aims to increase the impact of the work of designers.  
How well is the voice of researchers and young researchers heard in our society?
Young researchers have more and more opportunities to share their work. The article-based approach of pursuing doctoral projects provides the possibility to reach many academic audiences. Interestingly, the COVID-19 pandemic emphasized the role of remote collaboration, and there are some positive impacts of this change. For example, it is easier to reach out to other researchers and non-academic representatives from all around the world. 
What are the most important values and beliefs in your life to live by?
I created a compass to navigate the change in my life. Such a compass includes values such as freedom, curiosity, trust, and beauty. Then, when I need to make a decision, I verify how these values will be utilized. It enables me to act in harmony with myself.
Describe a book that you've recently read and which you recommend others to read as well.
 
I recommend "Klara and The Sun" by Kazuo Ishiguro. 
I learned about this book from The New Yorker. My attention was riveted by the information that an android is the main character of this novel. The review suggested, however, that this is not the kind of science fiction I would expect. 
Since artificial intelligence appears in literature with a capital L, it is a sign that what seemed like a distant future is becoming the present. I plunged into this world with great curiosity and pleasure. I liked Klara immediately. She turned out to be a profound observer, a devoted friend willing to sacrifice, and an inhuman being - Ishiguro constructed this inhumanity masterfully. 
"Klara and The Sun" left me with many questions: Do we humans have a right to feel superior to androids? Can we modify them as we see fit? Are we able to establish a deep relationship with non-humans? It's worth reading not only by technology enthusiasts.