Studying at the university offers possibilities for development in several aspects. You will
certainly gain knowledge and skills related to your field of studies but will also improve
essential general competences. You will be faced with several challenges and it all requires
conscious action. To be able to reflect on your learning and development, Tallinn University
offers you support in the form of the general feedback system, information sessions and
possibilities for more personal counselling.
Each student can participate in the following feedback questionnaires during the study
period:
Feedback of first year students (September-October of the first year of studies).

Feedback at the end of each semester (December-January in the Autumn Semester;

May-September in the Spring Semester).

Feedback of graduating students (May-June of the last year of studies).
An example of feedback process in BA level can be seen in following graph.

The main purpose of the feedback questionnaire is to make the student think about different factors related to studies and therefore, at the end of the feedback period, the Study Information System enables the students to see their own results as compared to the results of others. In addition, one of the goals is to include another perspective from the teaching staff, academic unit as well as that of the university. As a result, it would be possible to offer better support to learners and to the lecturers during the learning process. Feedback topics have been described in more detail in the following graph.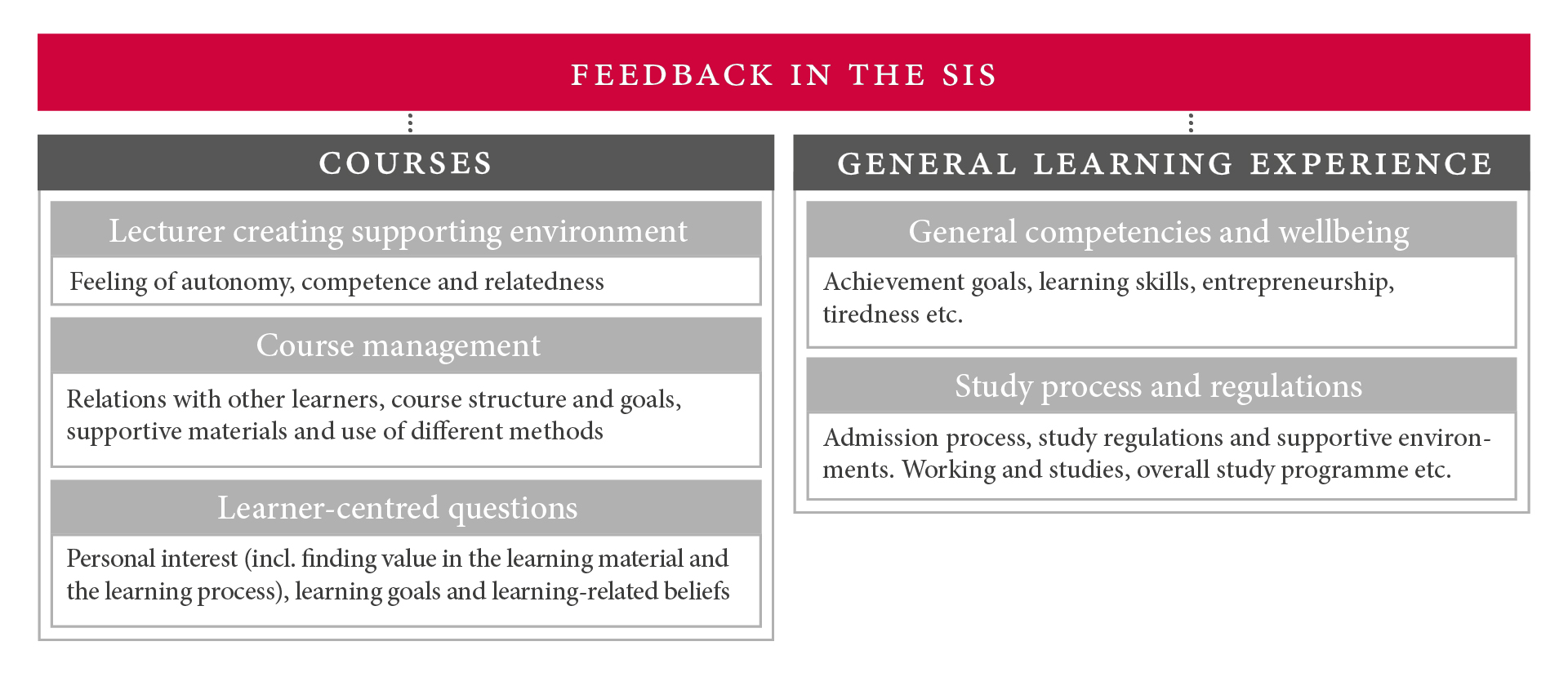 The feedback is also a possibility to bring out the things that were great during the course
and also some thoughts about how to make it even better, it provides a good opportunity for
teachers to analyze their development as a lecturer. To make this experience more useful for
them we kindly remind you some basic rules of giving constructive feedback that can be
used when answering open-end questions.
 
Pay attention also to the things that were good and bring it out.

Give critics as options not as the list of things that need to be different and do not

 

tell the teacher that he/she is an absolutely bad teacher (for example if the

 

dissatisfaction is with the materials teacher gave you can explain why this method did

 

not support your learning and offer ideas on how your learning experience can be

 

better supported with the materials)

.

Try to see the course as a whole and think of why things were not the way they

 

should be. Is it the problem of the methods the teacher was using or is it more about

 

how the subjects were ordered in your study programme.

 

Find time to think about the questions and give reasonable feedback.