SOGOLAS Research Seminar: EU law and migration from the legal perspective
04/08/2020 - 17:00 - 18:45
SOGOLAS Research Seminar: EU law and migration from the legal perspective
At the research seminar Prof. Lehte Roots is discussing a role of law and specifically the European Union law in the discussion of migration management. Immigration affects us in all levels and sectors of the society. Immigrants become members of the society they immigrate and have to manage their lives in a new environment provided by the state and its population. New immigrants influence the ethnicity of the society, the culture, the development of the society they live and contribute. Since 2004 Estonia is part of the European Union and sovereignty of decision making and application of certain rules is given to the EU level. The current legal basis and competence of EU to make decisions and legislate in the field of asylum can be found from Articles 67(2), 78 and 80 of the Treaty on the Functioning of the European Union (TFEU) and also in Article 18 of the EU Charter of Fundamental Rights that became a binding document after the changes brought by Lisbon Treaty. Why we have to do what we do? How free we are in the decision making in the field of migration and asylum being a Member of the European Union? These will be some of the questions that we will discuss on 8th April.
Program
17:00-17:15 Registration and coffee
17:15-18:45 Seminar
Professor Lehte Roots has a PhD in Law from European University Institute, Florence, Italy. She also has a Master degree in Public Management from Potsdam University, Germany and Master in Research degree from European University Institute, Florence, Italy. Prof. Roots is Member of the Scientific Committee of two journals and Member of the editorial of one journal. She has widely published in international journals and edited volumes published for example by Springer Verlag. Prof. Roots has lectured in Estonian Academy of Security Sciences, Tartu University and Tallinn University of Technology and also outside of Estonia in University of Miami, USA, Vietnam, Moldova, Cambodia etc. She has very good competence in leading international projects and more than 11 years of experience of leading a non-governmental organization. She is involved as an expert for European Commission and European Parliament research and assessment activities.
Seminar is moderated by Peeter Selg.
Additional information: Koidu Saia, Koidu.Saia@tlu.ee, 6199 944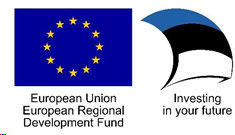 Activity is financed by the European Regional Development Fund through the institutional package measure for R&D institutions and higher education institutions (ASTRA project TLU TEE of Tallinn University) and is organised by Doctoral School of Behavioural, Social and Health Sciences and Doctoral School in Economics and Innovation