Traineeship at the "Capital" of Europe
Aizhana is an MA student of the international degree program Educational Innovation and Leadership and she went on an Erasmus + traineeship in Belgium. In the article, she shares her experiences.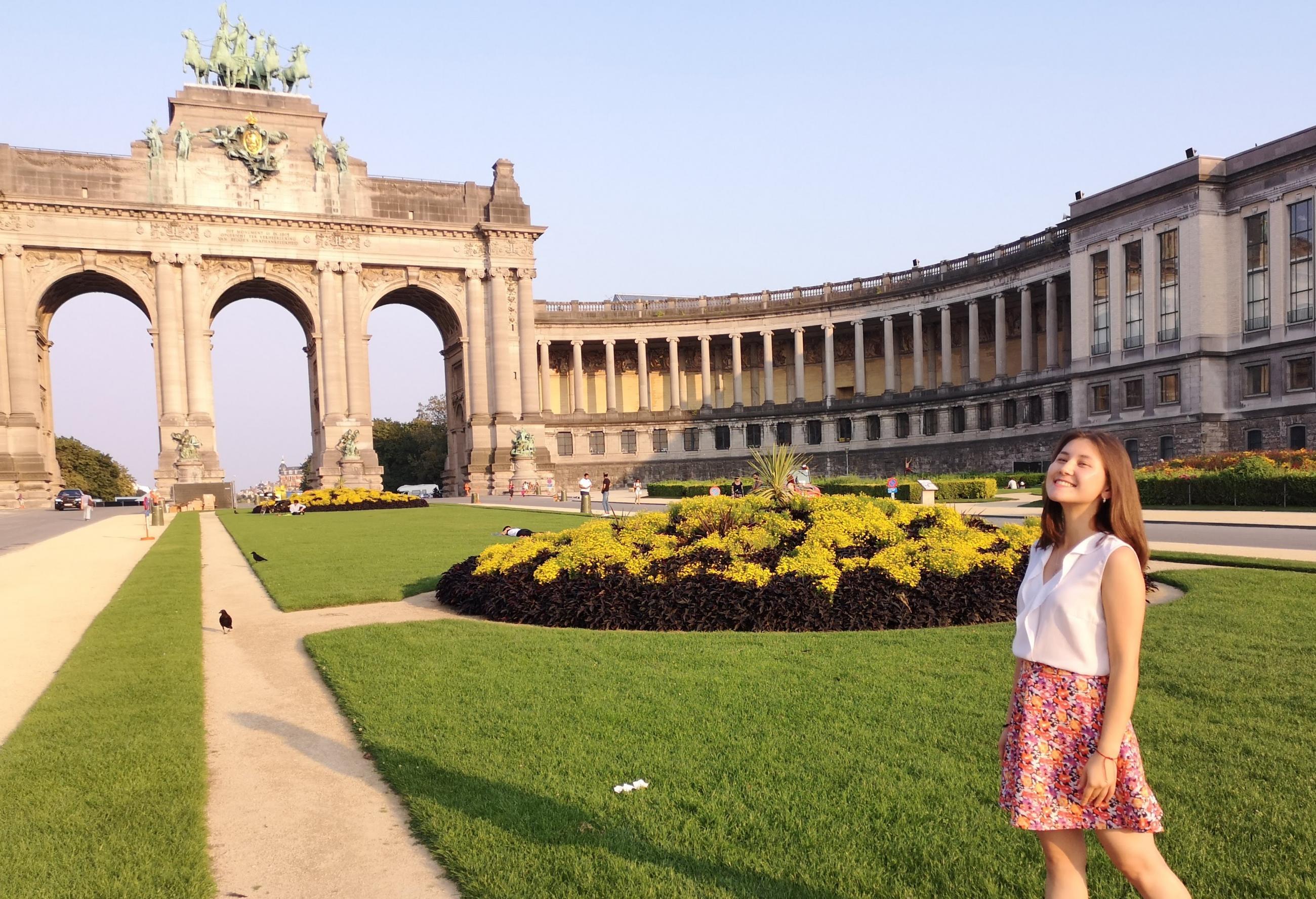 "Ah, how nice," - I thought to myself, sipping some delicious beer and snacking on some strong cheese. The sun was going down and as it was setting it shed all shades of pink and purple colors in the sky. Brussels, from a busy working city, started slowly turning into a lively place with music playing from all corners and people chattering in bars and cafe over a glass of summer drink. 
As I am drawing this picture in my head I am thinking of the great time I had in Brussels… working. Well, training. Well, doing a traineeship. I went there this summer and along with learning a lot about the country, I learned a lot about myself and the field where I would like to work in the future.
So, who am I, and how did I end up in Brussels?
I am Ayzhana, a Master student of the international degree program "Educational Innovation and Leadership". Even before coming to Tallinn University, I knew I wanted to try and apply for Erasmus+ grant to go do a traineeship abroad: I've always considered it a great opportunity for students to get to know their field of future work better along with some other perks, such as traveling and meeting new people.
I started my search back in February. I am one of those people, who have rather wide interests and are curious about learning a lot of new things, so as you can imagine, it wasn't really an easy choice. I tried to narrow down my interests and reason for my decisions. As a result, I decided to go for adult education organizations in the non-governmental sector. Working in an NGO appeared amusing to me as I had never done such work before and dealing with adult education had been my interest and my specialty for a while already. 
And then I began the search. I have tried different ways, but the most successful one was simple: Google. I found a couple of organizations that seemed to be most suitable for me. Most of them, however, didn't have any information about possible traineeships, so I contacted them via email asking if such possibilities exist and explained my personal interest in joining their teams. It took some time for the organizations to respond to my messages, so if I had to give a tip I'd say: "Start early", and research your possibilities in advance. 
A couple of months later, I finally had an interview with my most desired destination: EAEA, the European Association for the Education of Adults, located in Brussels. Luckily, they approved my application and after all the paperwork was done, the exams passed and things packed I was heading off to the capital of Europe.  
And how was Brussels?
I literally started writing an answer to this question over a dozen times, and every time it felt that I was missing something. If I had to describe my experience in one word, I would say stunning. Luckily, though, I can use more than one word. 
It welcomed me with a good summer thunderstorm. I was told prior to my departure that Brussels is incredibly hot in the summer, and I was surprised to find out that it is actually not. Which for me for a person who had lived in a rather cold climate for a while was a great relief? It opened up to me gradually and slowly. It wasn't loved at first sight, but I was sad to leave it when the time came. And it said goodbye in the most Brussels-like manner: with good rain, occasional sun, weekend markets, and friends.
But let's be more consistent. For me, Brussels was mind-changing. I have been to different places and cities, big and small ones, but Brussels was the first city with such a cosmopolitan atmosphere. I loved it. I loved walking around and seeing people of different skin colors, different hair-styles wearing all kinds of clothes, from trendy suits to exotic colorful dresses to fashionable designer outfits. Cuisines from all over the world are at your disposal: Middle-Eastern, African, Asian… Basically anything you crave. The whole city is a patch-work: each district, commune, has its own soul, its own look, its own rules, and its own best places.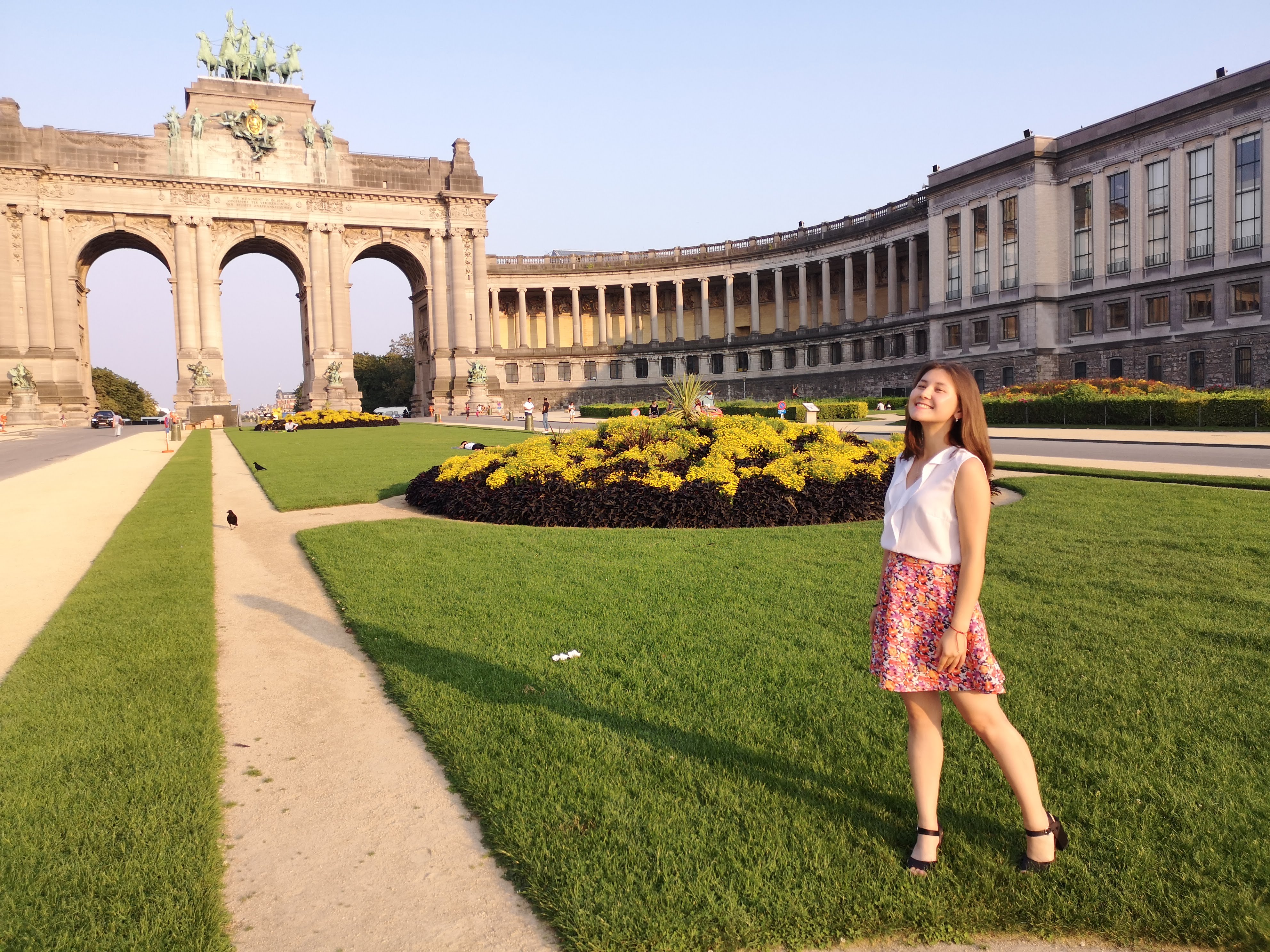 In Parc du Cinquantenaire
I enjoyed the international atmosphere at my work-place as well. I did my traineeship at the European Association for the Education of Adults. The association is located in the European quarter of Brussels only a few minutes from the European parliament. In the office, I could hear languages from all over Europe: French, Dutch, Italian, Spanish, German, Polish, and, of course, English, even though the staff of the organization is relatively small. Working with my colleagues from the organization was a truly enriching experience: apart from learning a lot about the field I also learned about the different cultures that my colleagues represented, about European lifestyle and mindset in general and about Belgian history and traditions in particular.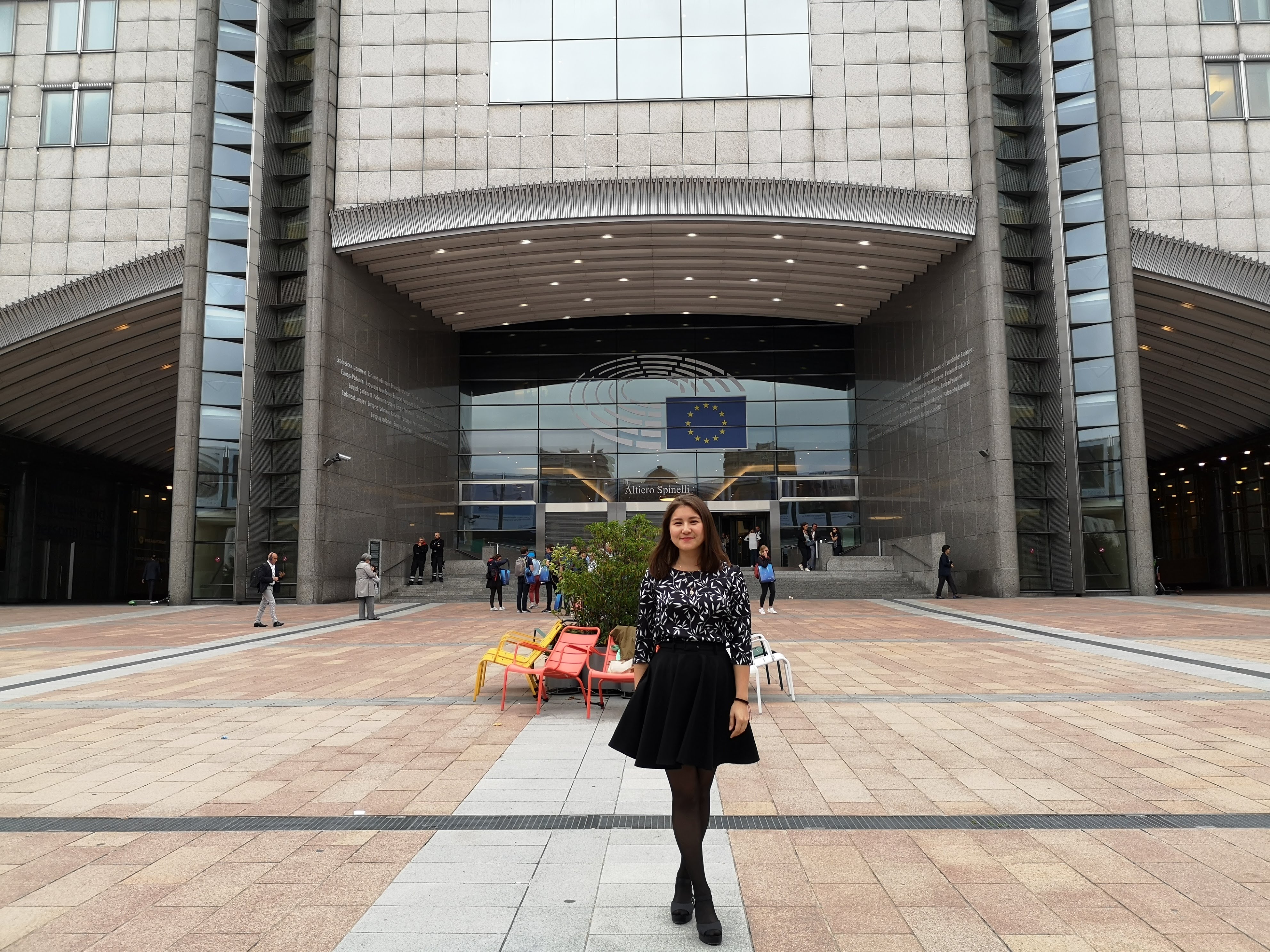 In front of the European Parliament 
My professional learning had a very hands-on approach. My colleagues helped me a lot in settling down and smoothly easing into the everyday life of the organization. I really appreciated the working culture at the organization as well: I felt supported and cared for, trusted and relied on, but at the same time there was no pressure or personal accountability, strict deadlines or macromanaging. I did various things while doing my traineeship, mostly related to writing and editing.
I helped with preparing printed materials for the biggest event of the organization, the General Assembly, I participated in managing the social media and the website, I worked on annual publications, such as Country Reports and Grundtvig Award publication, I prepared an article for a partner web-portal, as well as looked for opportunities of expanding the network of the organization. Summers are usually rather quiet periods in organizations such as EAEA, but I still had a chance to learn and expand my network. And, of course, I was very grateful to work aside like-minded people.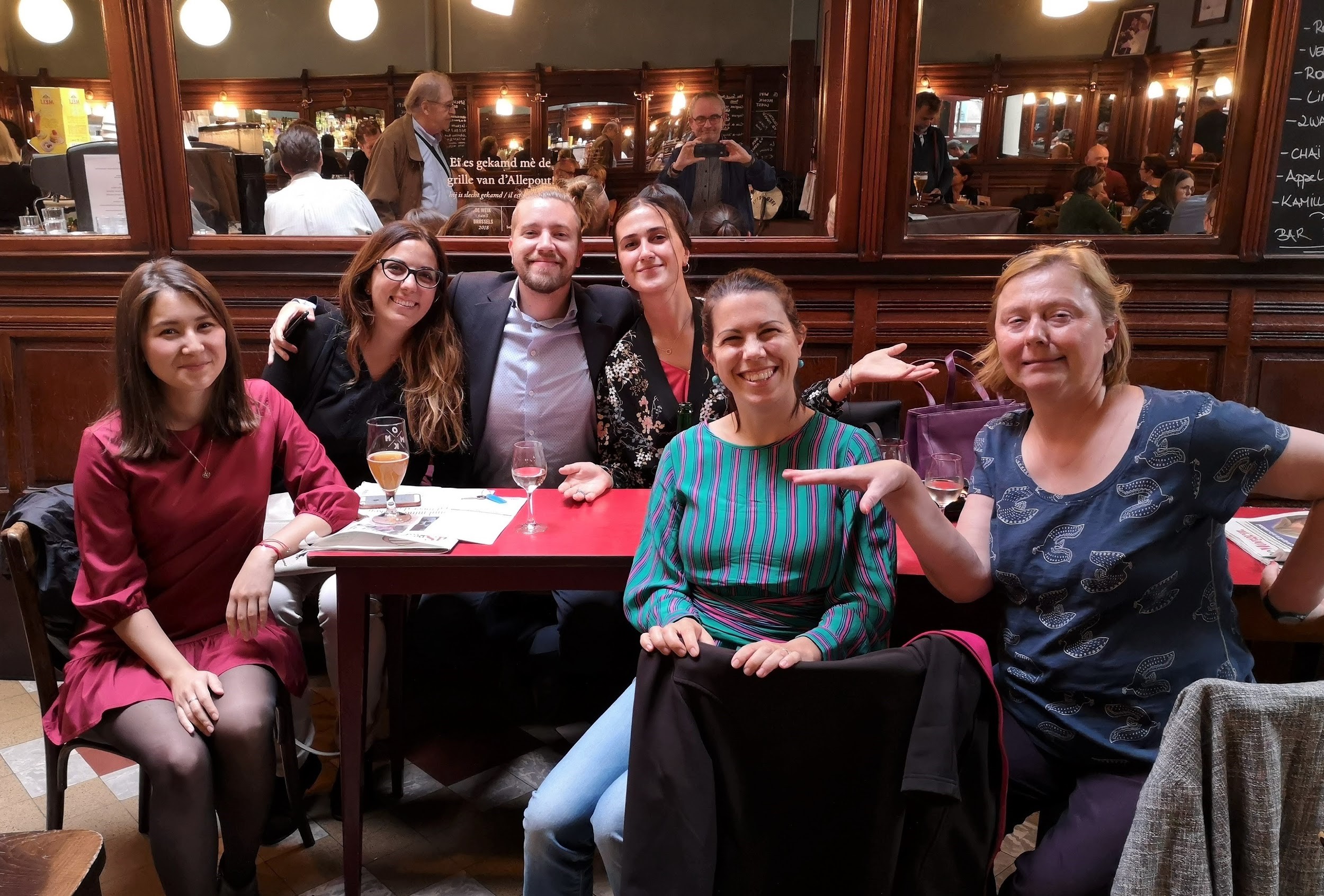 Celebrating the last day of work the Belgian way: with a glass of fine beer. In the picture are my colleagues: Silvia, Matthias, Chiara, Francesca, and Regina.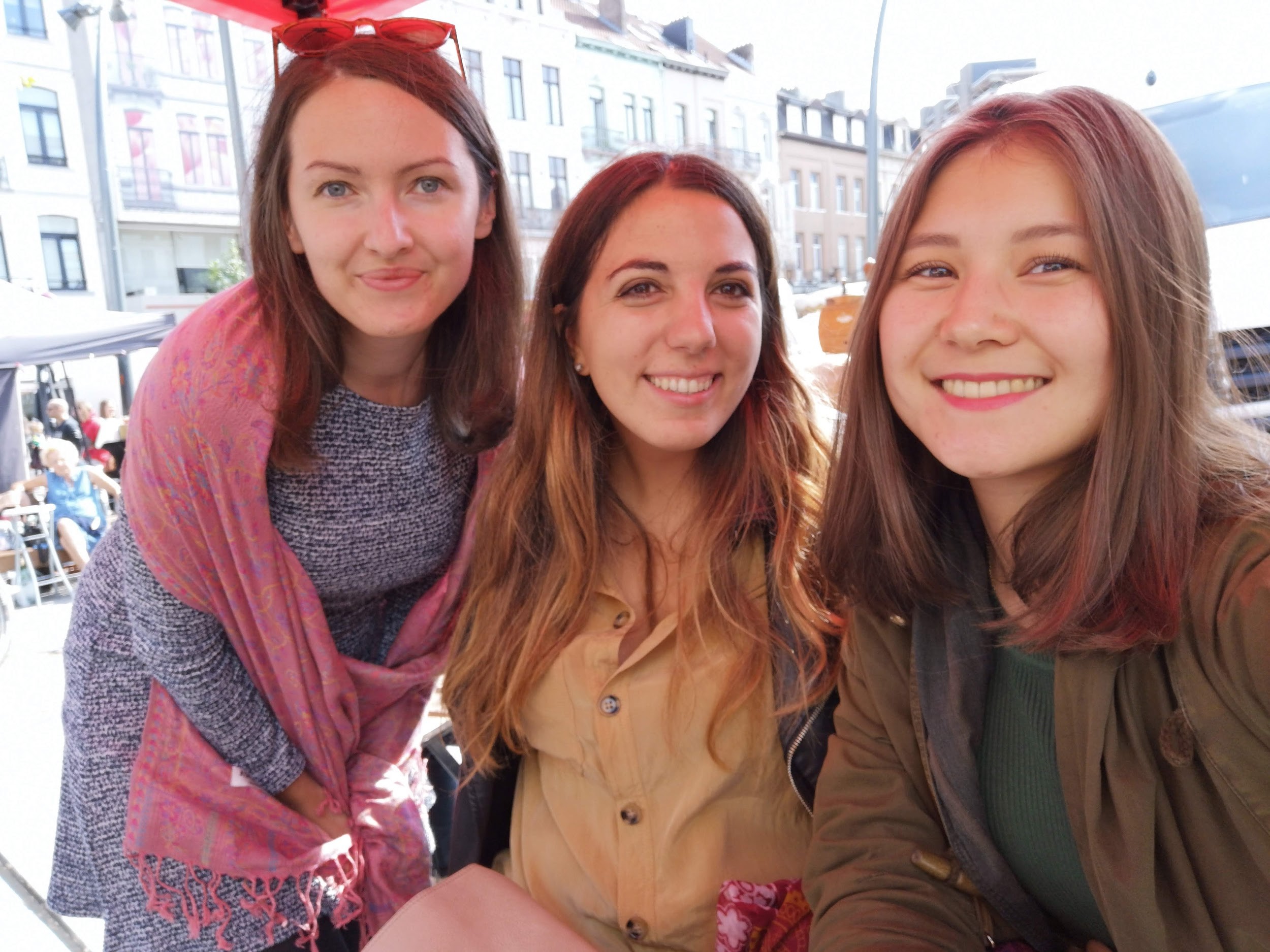 Having morning coffee with Alexandra and Silvia
But about the holiday…It is true that I went on a traineeship straight after finishing my exams and I did start a new term only 3 days after my work at EAEA was completed. However, I still did a lot of holiday activities, and Belgium, in fact, has a lot to offer. 
One of the greatest parts of my summer was, of course, traveling. I visited some places in Belgium, such as the dynamic student city Leuven, beautiful Brugge, Ghent with its mesmerizing lights and decorations,  and even a beach town Ostende. All summer there were a lot of different festivals happening all over Belgium. The festivals offered a great range of music for any taste, good food, and a warm and energetic atmosphere. I also had a chance to travel to the nearest countries: the Netherlands to meet up with my classmate Ali, who did an incredible bike trip across half the European continent; to Germany to watch a football match of Borussia Dortmund; to Lille in the North of France, and even to Prague for a summer school.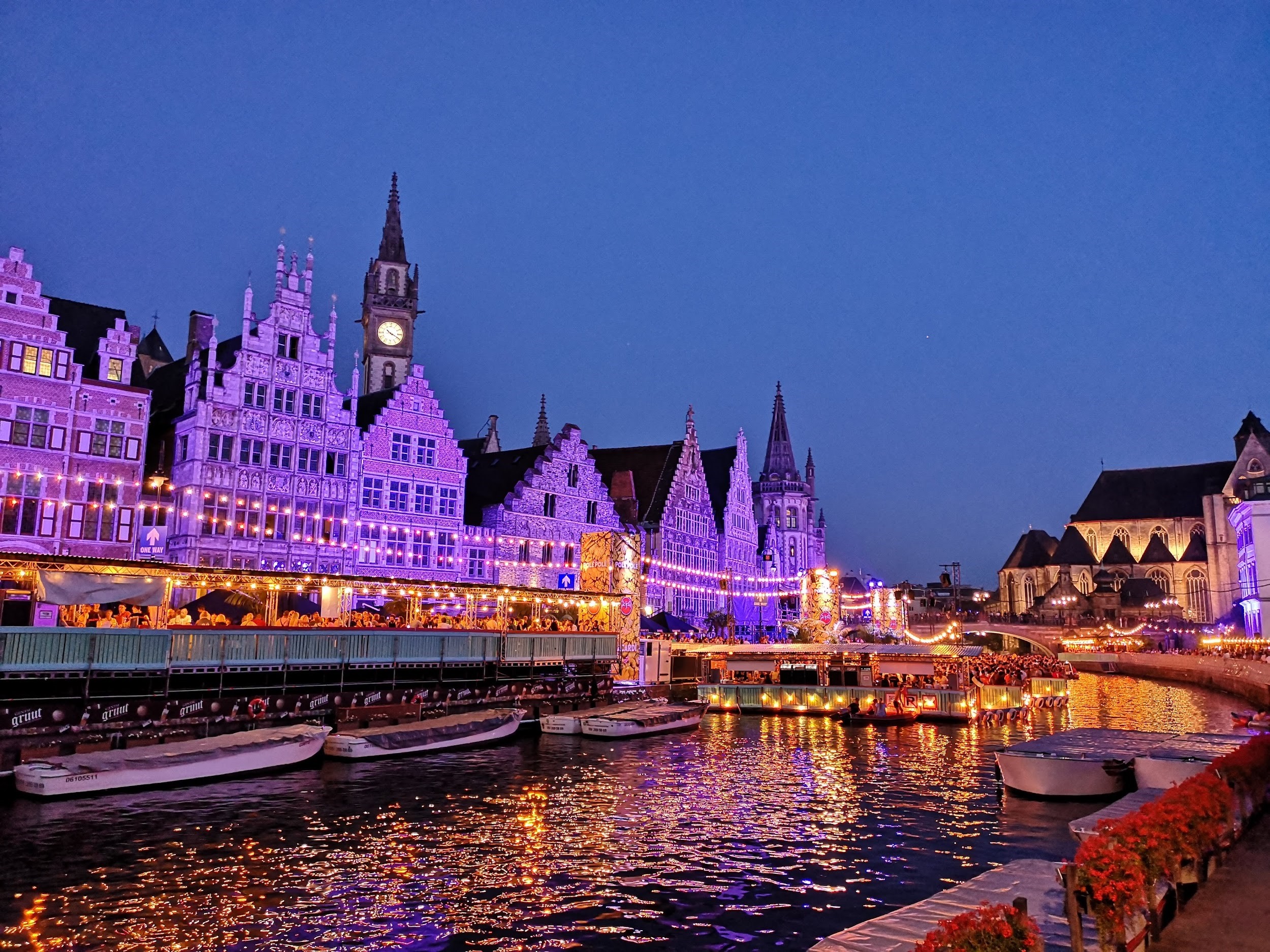 Ghent during Gentse Feesten
 But even without all the traveling, I liked being in Brussels. Brussels and Belgium certainly grew on me over this summer. I forever fell in love with Belgian beer. It might sound too simple, but basically anyone can find something they like among all of the variety of flavors, colors, brewing techniques and so on. Another cliche thing is, of course, chocolate. Never before could I enjoy a piece of dark chocolate, but Belgian brands certainly changed my mind about that. And the city itself is simply nice and welcoming, even with its endless road reconstructions. 
But what I appreciated most of all is the personal development I did while on my traineeship. Going somewhere for a rather short period of time to work is a different experience from tourism, studying, or full-time employment. It required me a lot of coming out of the comfort zone, accepting and embracing the hard moments and enjoying the good moments with the full heart. From this experience, I learned to be more accepting and open-minded, I practiced my interpersonal skills and how to find connection, I became more independent, reflective and self-aware. I am ever so grateful for the opportunity that Erasmus gave me and I am hoping to continue my journey of self-development further on. This Autumn I am spending in the Czech Republic doing an exchange semester at Masaryk University. Can't wait to see how this is going to turn out!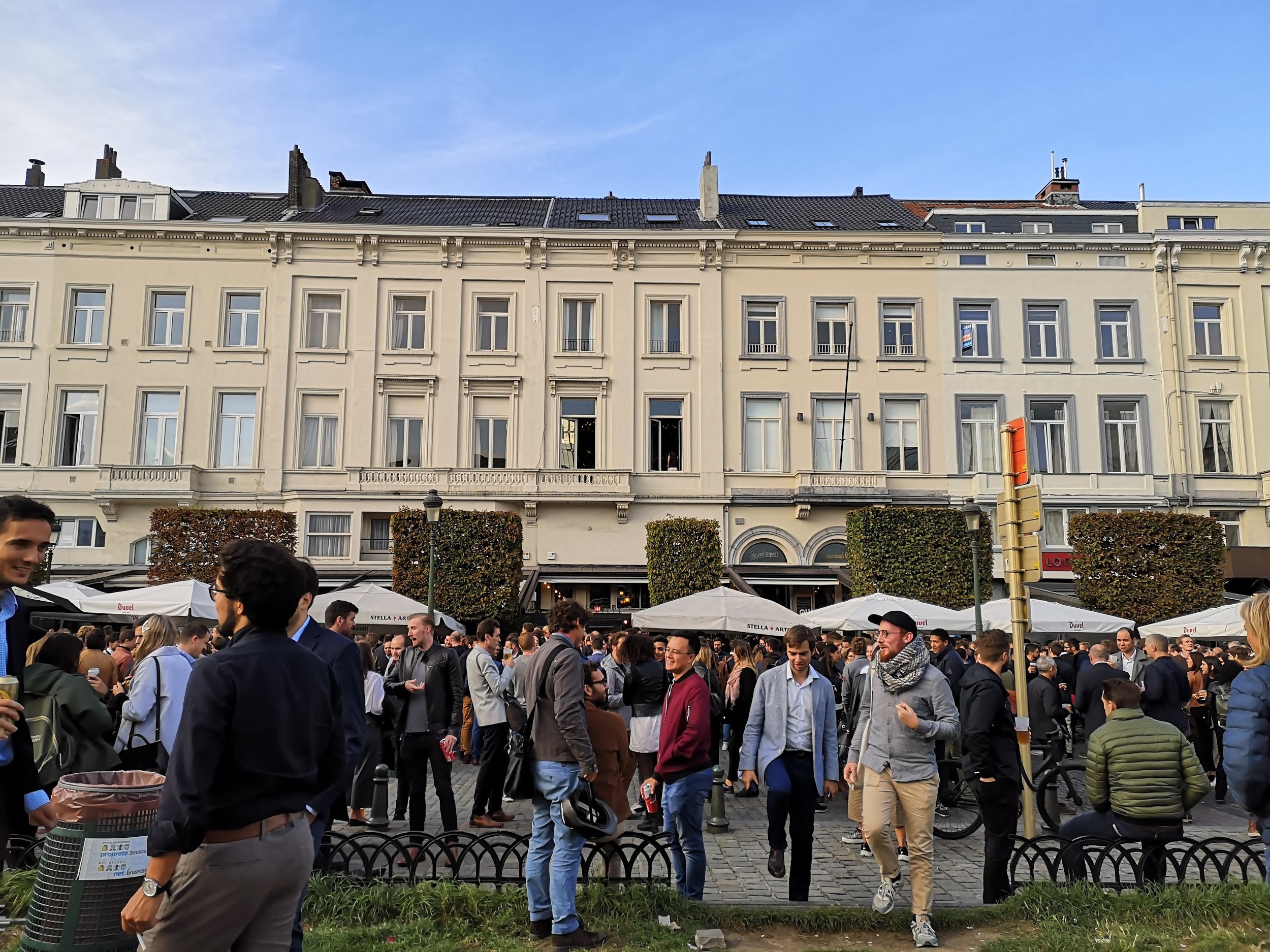 Afterwork drinks on Plux, place de Luxembourg, in front of the Parliament. Every Thursday interns and workers from, mainly, the European Institutions come here to celebrate the upcoming weekend.
If you are interested in Erasmus+ traineeship please read more here.