Aija Sakova: Tallinn University stands out as a quick adapter
In August of this year, Aija Sakova, Manager of Business Cooperation and Knowledge Transfer of Tallinn University, who is a passionate cultural giant and a fan of science, started working at the Rectorate of Tallinn University. In her free days, however, she appreciates conversations around the kitchen table, doing nothing and watching the clouds while lounging with loved ones.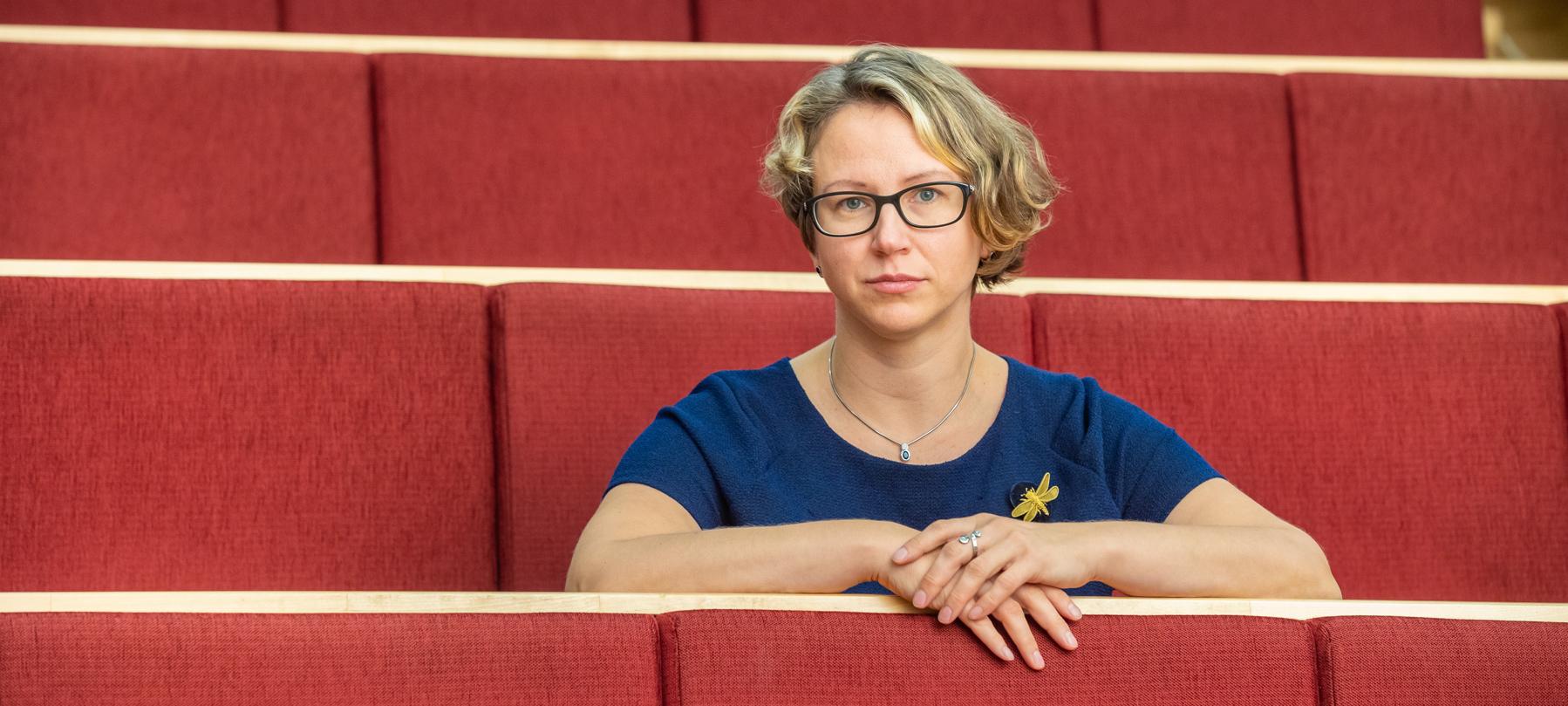 Aija, you have been the Manager of Business Cooperation and Knowledge Transfer at Tallinn University since August. What has been your previous contact with Tallinn University?
By background, I am a humanities researcher, and that is why I have also collaborated with several colleagues from Tallinn University's School of Humanities. As a doctoral student, I even helped to organise some conferences at Tallinn University.
I have also previously worked in the Academic Library of Tallinn University, from 2012 to 2017. At that time, the head of the Baltic and Rare Books Department, a successor to Katrin Kaugver, was sought in the library. Due to my German language and cultural background, which was very much needed in this job, I was elected. I can say that I learned a lot there through the library as well as through books and cultural history. This time, the daily contact with several hundred years of books, taught depth and slowness, seeing today in the context of time and culture. It is a great pleasure that Estonia's foreign-language retrospective national bibliography until 1830, the progress of which I was also able to take part in some time ago, has now been completed.
Afterwards, I was also the development and communication manager in the library. Since then, for example, I remember a joint seminar with the School of Humanities, where we invited the School's representatives to talk about books that have not been read yet, but should have been. It was really inspiring.
What impression of a research institution has Tallinn University left you so far?
To me, as a person who has been mainly educated in Tartu, Tallinn University has seemed to be a quick adapter and a research institution, whose members perceive the trends of society and try to react and respond to them with their research.
While working in the library, I also admired how all these different university institutes were able to be merged into six units in 2015.
What are your goals as the Manager of Business Cooperation and Knowledge Transfer at Tallinn University?
My goal and desire is to support researchers in developing and applying their knowledge, experience and skills. To do this, it is necessary to understand and feel the university's research potential and innovation capacity, in other words, people, their research and readiness for change. This is my first goal, to try to get to know first and foremost the researchers of our university and their research interests.
I believe that cooperation with people is the key to the success of our university. Since I would say that making connections and initiating dialogue is one of my strengths, then I believe that together with researchers, I will find the doors to knock on to help the knowledge created at our university transfer (faster) into the society. There are a number of areas where it makes sense to do this in partnership with the private and public sectors.
When Tõnu Viik, the Rector of Tallinn University, offered you to become a member of the university's Rector's Office, how long did you think before accepting the offer?
I was considering it for some time, because it was an important decision. It was crucial for me to understand the challenges the university is facing and to understand what I can bring with my personality and knowledge and how it could benefit the university. The team and team spirit were also important to me, in other words, the values ​​that the Rectorate represents.
What has been your career so far?
I already mentioned working in the Tallinn University Academic Library. I have also worked as a research journalist in the newspaper of the University of Tartu, and in the later journal Universitas Tartuensis. There I learned about the university as such and got an idea of ​​what it could mean for a researcher's life in different fields of science.
For the last five years I worked as a researcher in the Estonian Cultural History Archive of the Estonian Literary Museum in Tartu and helped to open and make sense of cultural history correspondence, as well as supported the research communication of the Literary Museum.
In addition, for almost 20 years I have written literary criticism and opinion stories for various Estonian newspapers and magazines. I have moderated and organised a number of literary and other conversations in Estonian, German, English and Russian, including with Nobel Prize winner Svetlana Aleksijevitch. 
I am also proud that I was the main organiser of an international conference dedicated to the 100th anniversary of the writer Jaan Kross, and that I have helped to build and launch the activities of the association dedicated to the writer Ene Mihkelson.
But I have also been more open to understanding and opening up culture. I started co-curating my mother's and father's exhibitions, both of whom are artists. And in recent years I have been involved in building and designing the Esna Gallery, the venue for cultural events at Lilian and Martin Bristol. In short, I am familiar with the functioning of cultural entrepreneurship and the world of non-profit organisations.
What do you like to do in your spare time?
Since I love to work and usually have a lot of things to do, I make sure I have time for my family, especially for kitchen conversations, which are very meaningful for me. I also love think-walking and to share time with people dear to me. I also usually am preparing another writing or a book project.
What does your ideal day look like?
My ideal day includes the right amount of time to think-walk, one meeting-conversation with someone who inspires me, and some time to write-think. Relationships with people, loved ones and friends, as well as e-mail correspondence, are also very important to me.
During my ideal day, I should also have some time to do nothing and watch the clouds with my loved ones.