The Scopus Diaries public lecture was a smash hit
RASI held a public lecture on the 16th of October in which Abel Polese took center stage. The lecture was based on his guidebook The SCOPUS Diaries and the (il)logics of Academic Survival. Topics included academic survival and change.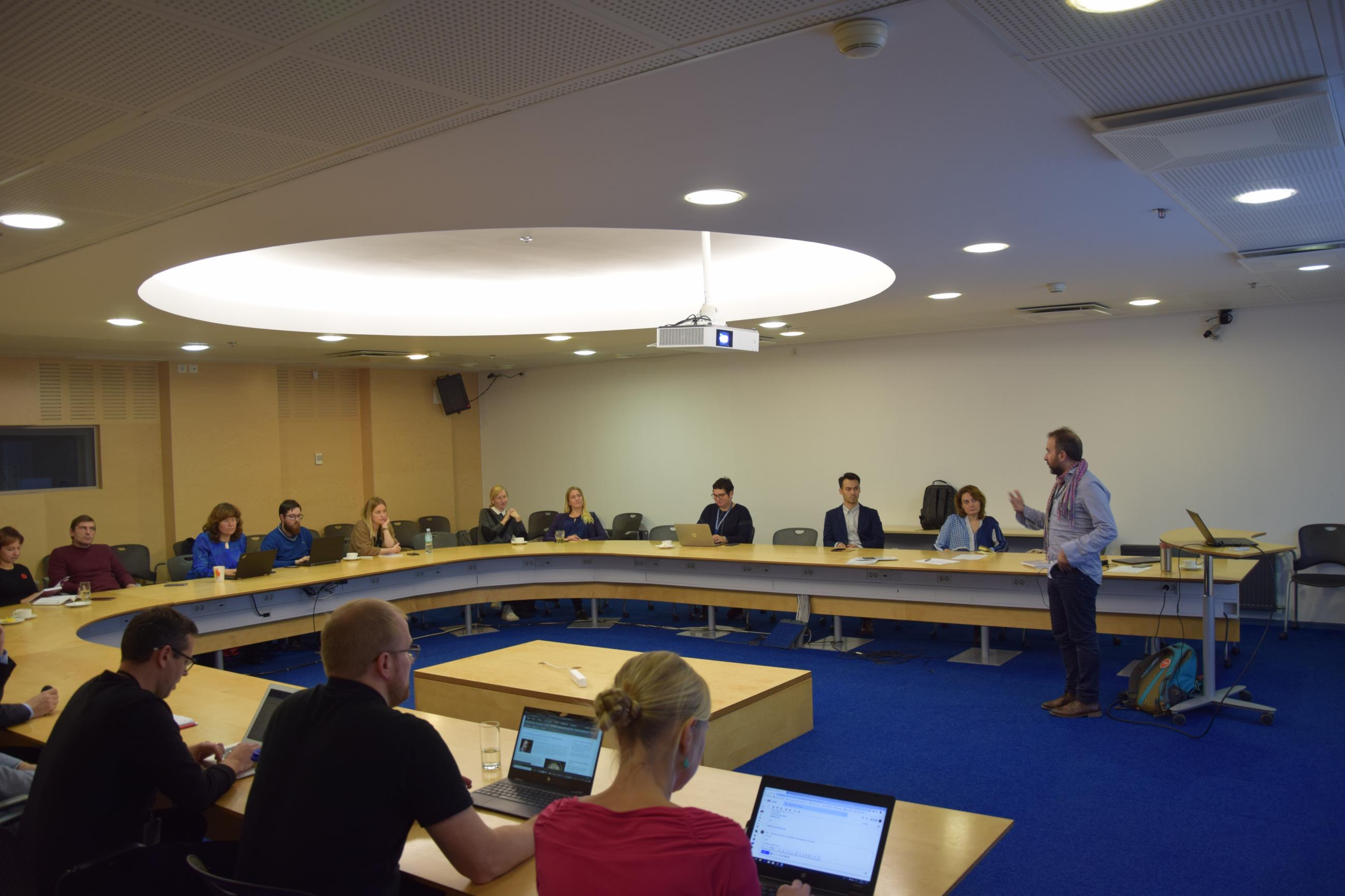 The book on which this lecture was based was published in January of this year. In it, Polese ventures deep into his own experiences in academia. His academic career is fleshed out in this academic guidebook including experiences from all five continents over a wide range of disciplines. 
The underlying problem of the book is that a growing number of scholars are finding it hard to concentrate on what they like to do because they are overwhelmed by what they are required to do. By unveiling some of the "tricks" used in academic careers, it levels down the competitive advantage of those who are allegedly more successful to open the door for some change in academia.
Abel Polese himself said of his book that conceiving it has allowed him to reflect deeper on his career and academic careers in general. Since the book has been published he has also been called by several institutions to speak about research excellence and other relevant research-related issues.
His audience was not lacking in praise. One participant had this to say: ''I enjoy Abel Polese's approach – he views the academic world in an intriguing, yet humorous way. His topics touch upon sensitive and real problems such as climbing the career ladder versus the inability to climb further; self-preservation vs burnt-out style of work; chaotic vs purposeful academic path. These juxtapositions made me really engage as a listener. He managed to describe his own experience and whole-heartedly criticize the bureaucratic stupidities that he's had to face. I started to think, however, that as a junior researcher, one should specifically aim to be published in scientific publications that, although on the same rung as other ETIS classifiers, have a wider influence and are tougher to get into. You shouldn't set aside the smaller publications – that way you'll fulfill the formal requirements set upon you by the scientific community. But your goals should definitely be set increasingly on tougher academic challenges. In any case, I thoroughly enjoyed the lecture and I'm looking forward to more of these seminars".
The author and lecturer also remarked on his audience's participation: '' There are always interesting questions and reflections because every academic path is unique and special so at every event I get at least one question that makes me reflect on why we do what we do".
Abel Polese is a researcher, trainer, writer, manager and fundraiser and is the author of "The SCOPUS Diaries and the (il)logics of Academic Survival: A Short Guide to Design Your Own Strategy and Survive Bibliometrics, Conferences, and Unreal Expectations in Academia", a reflection on academic life, research careers and the choices and obstacles young scholars face at the beginning of their career.
Abel has a PhD from the Universite libre de Bruxelles and has worked at the Technical University of Dresden, the University of Edinburgh and currently at Dublin City University. He has been visiting researcher at, inter alia, Harvard (US), Toronto (Canada), JNU (India), Renming (China), HSE (Russia) and a visiting professor at Science Po (Paris), Dubrovnik and Rijeka U (Croatia), Corvinus (Hungary). His main academic focus is informal governance. He is also a member of the Global Young Academy, with which he is active on critical debates on academic life, from open science to evaluation of scientific excellence. 
Photos of the lecture can be found here: https://drive.google.com/open?id=1FI2QgbZTq4s6AHrBSYoXLUVDn2WY21n_