Carlo Cubero - Visual Anthropologist from the Caribbean
Carlo Cubero has worked at Tallinn University since 2009, leading and developing the Anthropology department at the current School of Humanities. We asked him a few questions about his background, his research, and why he thinks Tallinn University is the perfect place to study Anthropology.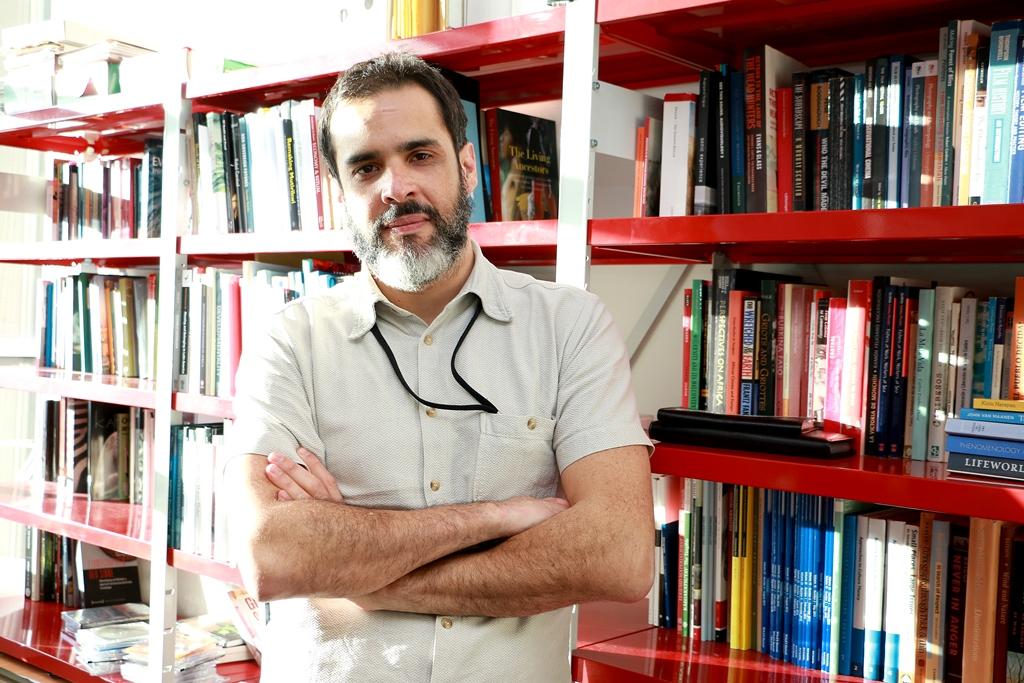 Where were you born and how did you discover visual anthropology?
My name is Carlo Cubero. I'm originally from the island of Puerto Rico in the Caribbean. I grew up in the theatre district, in a very cinefile environment. There were many theatre cafés, drama theatres and cinemas that we would visit all the time. During my undergraduate at the University of Puerto Rico I pursued that interest in cinema and in social sciences, particularly in anthropology. I studied general social science with a minor in English, because the cinema department at UPR was based in the English department. I was always interested in bringing together cinema and anthropology.
Through my undergraduate, I learned that anthropology is a study of social experience on its own terms - the anthropologist has to live through the experience. That makes it different from the geographers, philosophers and sociologists. After my BA, in 2001, I found the University of Manchester to go and study visual anthropology, not strictly filmmaking. I stayed there for both the MA and PhD. During my studies, I did my participant observation on what is called the Virgin Islands. My research was fundamentally about migration between the islands. The Caribbean archipelago, while being a single unitary chain of islands, is actually divided according to imperial history. This fragmenting of the islands into discreet units is something that continues today – it shows in academic and public research, etc.
The Virgin Islands is three juridical spaces, and yet people are always moving back and forth on the islands. I spent a year in the Virgin Islands, accumulating footage and living there, participating and observing their daily life, and I wrote my dissertation on that. The fundamental question was "What is an Island?", because we always have this impression that islands are isolated units, disconnected from the sea, the sea is a non-place. This is something Estonians can relate to. The islands are the 'other' spaces, they have this kind of exoticness to them.
However, islands can also be described as the opposite – as open spaces, with the sea as the connector between them I was looking at how island groups are simultaneously isolated, and connected to each other. My PhD film was about musicians. I sent it to film festivals and it got a fairly good reception, I am really proud of that. Incidentally, my PhD is going to be published in November as a book.
How did you end up in Estonia?
I finished my PhD, I moved to Luxemburg for a while. From there I got a one-year post in Puerto Rico University, at the anthropology department. While there, I organised a documentary film festival. Events like these are not very common in the Caribbean. There's at least three documentary film festivals in Estonia that I know of, but in Puerto Rico, there's just two feature film festivals, mainly for these Hollywood types coming to the Caribbean for two weeks. They are very popular.
During the film festival, I learned about a post opening in Estonia. I had been here before – in visual anthropology, Estonia is fairly well recognised. In addition, if you move around in the documentary film festival circuit, Estonia tends to be very well represented. There's always at least one Estonian in these things. Estonia was always on my radar as an interesting place to come to work, because I am interested in the idea of post-colonial identities, the idea of the New Europe, and the issue of identity in a globalised world. I knew people that were here, and I applied for the post. I've been here since 2009.
How have you become accustomed to Estonia during this time?
My participation in the Estonian context has been very easy, and I think it is because I arrived to Estonia through the university. Tallinn University is an increasingly cosmopolitan environment. It is very Anglophone, which is a problem if you want to learn Estonian, because everyone around you speaks such good English. However, that has not been a hindrance to my participating in Tallinn University or making the Anthropology programme go.
I think that my experience would have been very different, had I entered Estonia not through the University. The times I visit friends in the countryside, or I am forced to engage in Russian or Estonian, there I see my language skills picking up more quickly. For the first five years, my work was focused more on building the department, teaching, writing, organising events, and promoting the department. My stance towards Estonia has always been as a respectful observer. Seeing and understanding the place with its very interesting contradictions and complexities.
Throughout my time here, I've grown more confident about my opinion about Estonia, and the things going on here. I am also actively researching Estonia. My current research project in Estonia concerns the island of Piirissaare, and the old believer community there. I've been visiting the island for two and a half years. Piirissaare also has the complexity of being isolated, alienated, it is kind of like in the middle of nowhere, it is in between spaces, and it is neither Estonia nor Russia. However, at the same time its population is highly mobile. In the winter, the population is less than 20, but in the summer, it's over 150. The locals keep moving to Russia, Finland, Estonia, and back again.
Much like in the Caribbean, Piirissaare has this double condition of being very mobile and isolated at the same time. So I'm making a film for ETV (Estonian National Broadcasting), it's going to be a part of the 2018 season of the Estonian Stories series.
What are the three reasons someone should come to study Anthropology at Tallinn University?
Our slogan and the main reason is "Explore the human experience." Secondly, Estonia is a very pleasant and welcoming place, contrary to the many stereotypes that Estonians have about themselves. It's kind of like a hidden secret – not something many people know about, but when you arrive it's actually very pleasant, and very welcoming. Tallinn in particular is in a very rapid process of transformation. It still has the soviet aesthetic in some districts that exists side-to-side to H&M and the new Rotermanni quarter; everything is digital and online. Therefore, it has a very interesting contrast.
The elements are there, but they're arranged in a funny and different way. That's stimulating: it is very familiar and alienating at the same time. I know it, but I'm still curious about it, I haven't gotten used to it yet, and I say it positively. The third reason would be the economics. The education at Tallinn University has all the qualifications, the certificates and the same quality as any other Western European university, but it's very cheap. The student fee is competitive, there are many scholarships around, and quality of life in the city is very approachable.
I think that the vast majority of our Master's students are non-Estonians. This makes for a very lively cosmopolitan environment. Everybody here is discovering Estonia for the first time; everybody has this wide-eyed enthusiasm about the place. And I think that makes it a very stimulating place to come.