SOGOLAS Research Seminar: Scopus Diaries by Abel Polese
10/16/2019 - 16:00 - 17:30
The Scopus Diaries and the (il)logics of academic survival
Have you chosen an academic career, or plan to do so? Why? Can you cope with: teaching, publishing, peer review, project evaluation, fundraising, administration, bureaucracy, public engagement, supervision of Master and PhD theses, travel to conferences, fellowship applications, selection committees, editing, organizing events?
Some people manage, or at least seem to manage. Many others find it harder and a growing amount of scholars is finding it hard to concentrate on what they like to do because they are overwhelmed by what they are required to do.
Based on the author's experience and stories collected from five continents and a wide range of disciplines, The SCOPUS Diaries and the (il)logics of Academic Survival is an academic career guidebook organized around short questions and answers. It prompt readers to reflect upon what we do, why we do it, how we do it and eventually admit that it is impossible to "do it all" with a two-fold goal:
1) academic survival: it provides advice on how to maximize your output so to help you spending less time on tasks that you are not fond of. By doing this, it suggests possible ways, and approaches, to find the time to do the things you like and that have brought you to academia in the beginning
2) academic change: it demystifies and de-romanticize a system that has become too mechanical, political and where strategy has (wrongly) never been acknowledged as a key component of career. By unveiling some of the "tricks" used in academic careers, it levels down the competitive advantage of those who are allegedly more successful so to open the door for some change in academia
Abel Polese is a researcher, trainer, writer, manager and fundraiser and is the author of "The SCOPUS Diaries and the (il)logics of Academic Survival: A Short Guide to Design Your Own Strategy and Survive Bibliometrics, Conferences, and Unreal Expectations in Academia", a reflection on academic life, research careers and the choices and obstacles young scholars face at the beginning of their career.
Abel has a PhD from the Universite libre de Bruxelles and has worked at the Technical University of Dresden, the University of Edinburgh and currently at Dublin City University. He has been visiting researcher at, inter alia, Harvard (US), Toronto (Canada), JNU (India), Renming (China), HSE (Russia) and a visiting professor at Science Po (Paris), Dubrovnik and Rijeka U (Croatia), Corvinus (Hungary). His main academic focus is informal governance. He is also a member of the Global Young Academy, with which he is active on critical debates on academic life, from open science to evaluation of scientific excellence. 
Please register here by the 14th of October.
More information: http://tallinn.academia.edu/AbelPolese
More information and posts are available here: 
https://www.facebook.com/thescopusdiaries/
www.scopusdiaries.org
Additional information: Koidu Saia, Koidu.Saia@tlu.ee, tel 6199 944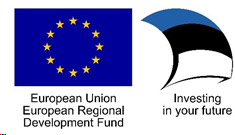 Activity is financed by the European Regional Development Fund through the institutional package measure for R&D institutions and higher education institutions (ASTRA project TLU TEE of Tallinn University) and is organised by Doctoral School of Behavioural, Social and Health Sciences