Fostering Social Innovation: The European Social Innovation Campus (ESIC) Kick-off Meeting in Helsinki and Tallinn
In a world undergoing rapid economic and environmental changes, innovation has become the driving force behind sustainable development. On the 19th and 20th of September 2023, a joint kick-off meeting took place in Helsinki and Tallinn, marking the start of the project called ESIC – the European Social Innovation Campus. The ESIC project is built on collaboration, bringing together a diverse group of higher education, vocational education and training partners, social economy organizations, and enterprises from 10 European countries.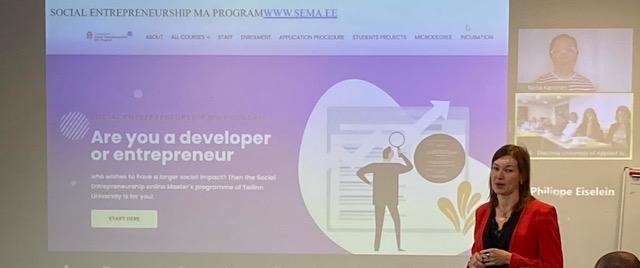 Tallinn University is the research partner in the project. Together with the alliance TLU will focus on addressing skills mismatches. As TLU has vast experiences in Social Entrepreneurship study programm, it will co-develop curricula for vocational schools and universities of applied sciences. Võru County Vocational Training Centre will be the testing and piloting partner in the project.
European countries, especially Finland, have already recognized the importance of integrating social innovation (SI) into their policies. At the heart of this project is the EU Action Plan on social economy, which receives increasing attention from EU member states. While the commitment to social economy is strong, the challenge lies in spreading and scaling innovations within this sector. The key focus is on creating an ecosystem that fosters the growth of social enterprises (SEs) and ensures their integration into broader policies and initiatives. Finland, for instance, has adopted the law on social enteprises in 2021 and the Strategy for Social Enterprises in 2022. The European Social Innovation Campus is designed to catalyze social innovation on a larger European scale. It will address key challenges such as promoting impact-driven skills and competencies in the labour market trainings and scaling up SEs. The collaboration will include research of the social innovation and aims to upskill and reskill the workforce and entrepreneurs in the sector. ESIC will establish and maintain the European Social Innovation Campus platform, which will serve as a hub for sharing project results and intelligence data on skills needs. With a commitment to upskilling, reskilling, and fostering innovation, ESIC aims to drive meaningful change and sustainability in the region.
The project has been initiated in the TLU WoWeC (Work, welfare and communication in the globalising and digitalising world) cluster.