Networking Lab: Social Work and Child Protection Practices
On 25 and 26 April 2019, international partners and experts on social work gathered at TLU to introduce their institutions to social work students and to discuss the future of collaboration in terms of social work education and research regarding child protection.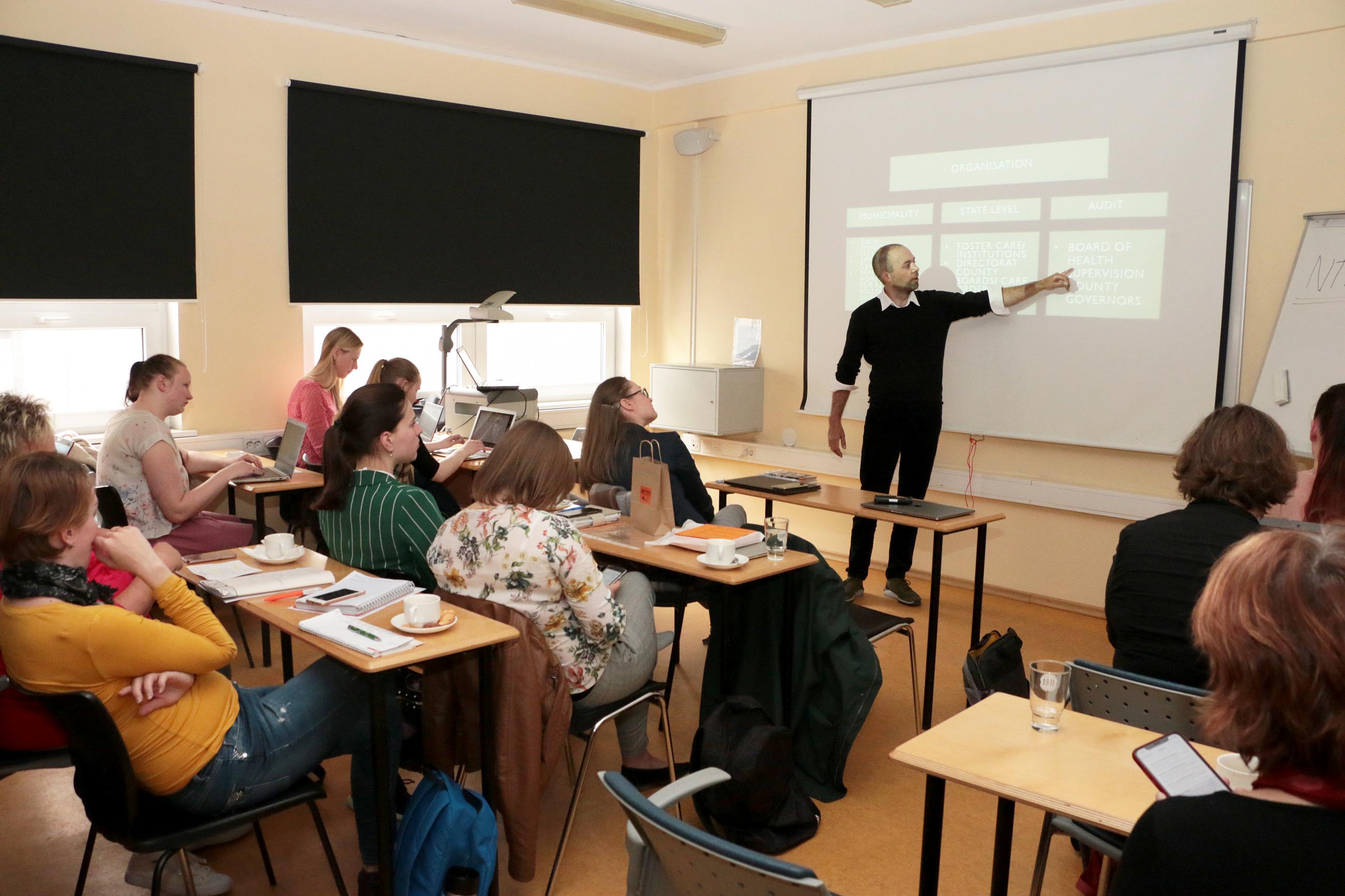 A year ago TLU staff brainstormed different ways to conduct cooperative projects with international partners on the topic of social work. The idea stayed in the minds of Karmen Toros and Koidu Saia—Head of the Study Area of Social Protection and Research Coordinator, respectively —and this spring they organized and carried out a two-part Networking Lab. On Thursday 25 April, the social work students could attend a seminar in which our international partners presented opportunities for Erasmus exchange and for future academic or professional careers. On Friday 26 April, our international partners met with TLU representatives to lay a foundation for future collaboration, including joint projects.
The Thursday seminar was very informative and sparked students' interest. Kolping University of Applied Sciences from Lithuania and the Norwegian University of Science and Technology discussed their student exchange and study programmes for social work. Kolping University's presentation encouraged getting to know this lovely European city and studying at the university, which provides individualized studies for the students. Several of our students expressed interest in learning more about the exchange opportunities there.
Norway is considered one of the leading countries on child protection policies. Two experts on the area, Anna Broka from Latvia (Vidzeme University of Applied Sciences) and Asgeir Falch-Eriksen from Norway (Oslo Metropolitan University), discussed the research conducted on child protection. The students were inspired to critically assess the current practices and ask questions, such as 'What is the situation here?' and 'How can we improve the well-being of our clients here?'.
One of our long-time partners from the UK, David Parks, introduced The Skill Mill, a social enterprise NGO that provides employment opportunities for young people ages 16–18. While the legal framework regarding criminal responsibility and the youth defending system in the UK differs from the one in Estonia, there are similar core issues when it comes to working with children who need help getting their lives back on track. David discussed a trainee position in The Skill Mill and the great opportunities to gain more experience and different viewpoints on social work.
On Friday, a group of SOGOLAS representatives and the attending international partners came together to discuss the procedures and frameworks of social work in different countries, as well as research and possible future cooperative projects. The combination of fruitful conversation and an interdisciplinary environment allowed all participants to learn something from each country and university to help build a foundation for future work.
This Networking Lab demonstrated that whether one studies, researches or practices in the field of social work, communicating and interacting with international partners helps create better solutions for child protection.
The initiatives from Networking Lab will be posted on the Children and Family Research Group website HERE.
To learn more about the exchange possibilities for social work, contact Professor Karmen Toros (lai@tlu.ee) and she will put you in the right direction!
For more information about Networking Lab's partner institutions, click on the links below:
Norwegian University of Science and Technology
Kolping University of Applied Sciences
Vidzeme University of Applied Sciences
Autohor of text is Mira-Maria Salo, Student of Politics and Governance BA & Research Intern in TLU SOGOLAS