SOGOLAS Research Seminar: Jakub Dostál and Anita Kéri
02/26/2020 - 16:00 - 18.00
SOGOLAS Research Seminar: Jakub Dostál and Anita Kéri
By registering to this event the contract of participation is concluded and for the performance of this
the required data is being processed by Tallinn University.
In case of interest, read our personal data processing conditions: https://www.tlu.ee/en/personal-data-processing
Topic of the Research Seminar: The economic potential of international students volunteering
Volunteering has been recognized as an important topic and the economic impact of volunteering has also been examined in previous research. However, there is a limited number of studies that focus particularly on the economic potential of international students. Therefore, the aim of our research cooperation is to investigate Erasmus students' economic potential in case of doing any voluntary work throughout their stay in a foreign country. Databases of ESC – European Solidarity Corps (formerly EVS – European Voluntary Services) and Erasmus websites supply data for analysis. The studies use a quantitative methodology, more specifically replacement wage using observed market proxies to estimate the value of the volunteer time. Students' economic potential is estimated by hypothetical situations of volunteering a lower and higher amount of volunteer hours per stay. Current research results indicate the importance of international students' volunteer activity. 
Jakub Dostál is a lecturer of Economics at the Tallinn University (Estonia), and an assistant professor of Public Economics and Human Resource Management at the College of Polytechnics Jihlava (Czech Republic). He teaches various courses from the fields of economics and management. He received his PhD at the Masaryk University, Czech Republic, with the dissertation on the economic value of volunteering in emergencies. He was a co-founder and a first head of the volunteer centre in Brno, Czech Republic, which was the part of the international movement ADRA International. His research focus is the economic value of volunteering in the context of volunteer management. He is also interested in the management of non-profit organisation and internalisation of higher education. He is currently leading the project called Czechia counts on volunteering funded by the Technology Agency of the Czech Republic. One of the outcomes of this project is a web and smartphone app for volunteer coordinators which will calculate the value of volunteering.
Anita Kéri is an Assistant Lecturer at the Faculty of Economics and Business Administration, University of Szeged (Hungary). She teaches Marketing, Market Research and Non-business marketing. She acts as a thesis supervisor of Hungarian and international students and is the vice-chair of the Association for Creative Education. Her research areas include studies on international students, internationalisation, higher education, motivation, expectations, satisfaction, loyalty and WOM in higher education. She has currently submitted her PhD dissertation on the topic of international students' loyalty and the influencing factors of their loyalty. Another research area of her is nonbusiness marketing and volunteering. She has won the Hungarian National Excellence research grant under which framework she is researching the phenomenon of co-creation in higher education with special emphasis on business studies. She participates in an Erasmus+ project called ISGEE (Implementing Serious Games in Entrepreneurship Education).
Additional information:  Koidu Saia, Koidu.Saia@tlu.ee.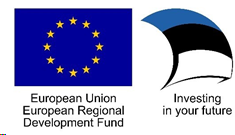 Activity is financed by the European Regional Development Fund through the institutional package measure for R&D institutions and higher education institutions (ASTRA project TLU TEE of Tallinn University) and is organised by Doctoral School of Behavioural, Social and Health Sciences and Doctoral School in Economics and Innovation