The Thoughts of Partners in Starting the FEWL Twinning Project
During the kick-off meeting of the project 'Integrating Formal Education with Workplace Learning' which took place on January 19th 2023 at Tallinn University, the external partners, Christian Harteis from the Paderborn University and Päivi Tynjälä from the University of Jyväskylä shared their thoughts about the project.

For Christian Harteis the message about the approval of the project application came as a surprise because most project applications fail. Furthermore, the project was an opportunity to visit the Baltic states and get new contacts which is why he was very happy about this prospect. Päivi Tynjälä was also a little bit surprised and very happy when she learned about receiving this project because the competition in the application rounds is always very tight although she knew that Twinning projects are less competitive. She was happy to collaborate with old and new colleagues. Neither of the partners had participated in a Twinning project before or heard anything about this programme. According to Christian Harteis, the idea came from Krista Loogma, the professor of vocational education at Tallinn University, who had participated in a project application with him before which did not get funded. In Päivi Tynjälä's opinion, the Twinning programme is not well known in Finland, at least her colleagues had not heard about it.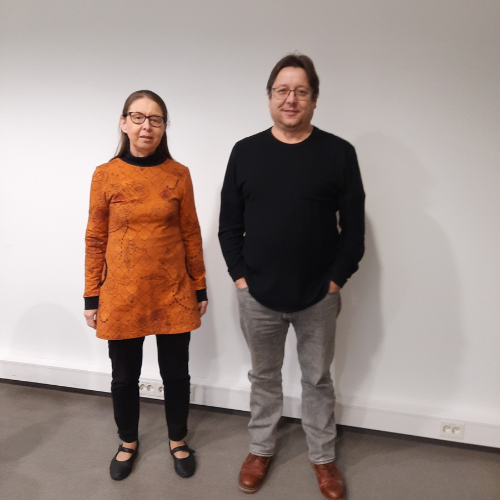 Päivi Tynjälä and Christian Harteis
The Twinning programme is intended for 'rising' EU member states although for Christian Harteis it is weird to think of Estonia as a 'rising' or developing state in the field of research because Estonia and Germany are, according to him, on a similar level. Päivi Tynjlälä shared his view: having had previous collaboration experiences with Estonian researchers it was difficult for her to associate Estonia with the concept of a 'widening area' in the EU. However, in each project, partners learn from each other which is good. Christian Harteis added that the project contributes to developing new research proposals in the future while Päivi emphasized that actually 'it is a luxury to have three years to develop a bigger proposal'.
The greatest expectations of both Christian and Päivi are related to composing new Horizon programme's research proposals. Christian is also looking forward to observing how the Early Stage Researchers develop during the project which is his area of responsibility. As the biggest challenges Päivi mentioned the composing of project applications and Christian added the concern for workload: all project related work, including trips to partner universities must fit next to the everyday work which is also for Päivi a big challenge.
Based on previous experience, huge workload has been a problem in various projects before, and occasionally also the lack of commitment by certain partners. According to Päivi, it is a challenge particularly for the project coordinator to keep all partners constantly involved. By Christian's experience it can be difficult if not all partners were known to him before because some of them may turn out to be unreliable. This is why he has decided to only contribute to these projects where he knows the main partners. This consortium is promising though because both Krista Loogma and Päivi Tynjälä were his long-standing acquaintances who can be trusted.
In this project there are only three partners which makes decision-making and setting directions easier than in the case if ten different opinions had to be considered. Furthermore, Päivi emphasized the European bureaucracy as challenging and compared it with the projects funded by the Finnish Academy which has much easier bureaucratic rules although there is still some accountability. Nevertheless, Christian thinks that even in the Twinning project certain things, for example, related to the choice of budget, have become more flexible compared to previous projects.
We finished the interview with an optimistic outlook for future while hoping for a good collaboration.

Read more about the project