SOGOLAS Research Seminar: Katri-Liis Reimann
The research seminar will explore the concept of social innovation and living labs as one of the innovation methods or approaches to achieving it. The presentation will discuss the barriers and opportunities that living labs create based on two projects- ProVaHealth and CoSIE.
11/20/2019 - 17:00 - 18:30
Registration 20.11.2019 SOGOLAS Research Seminar by Katri-Liis Reimann
The ProVaHealth project focuses on development of health products by SMEs through living labs. The CoSIE project - co-creation of service innovation in Europe- focuses on development of processes. The living lab approach has been used as the framework in that project to pilot a social hackathon.  The social hackathon is analysed as the enabler of social innovation through co-creation of public services and mobilizing community resources including less-empowered groups in a remote area in Voru county, Estonia. The living lab facilitates co-creation processes with end users and supports discussions with and the relationship between public, private, third sector stakeholders and ccommunity members which would have otherwise not occurred
Katri-Liis Reimann is Associate Professor of Management at Tallinn University, Estonia and Visiting Fellow at Northumbria University, UK. She is a lecturer, mentor and council member in the Master's programme of Social Entrepreneurship at TLU. She is a board member of The Skill Mill Limited – an award-winning Social Enterprise dedicated to the employment of young ex-offenders. She is a team member in the Horizon 2020 project "Co-creation of service innovation in Europe" and a manager of living lab related project "Product Validation in Health". Currently she is the Chair of the COST network project "Multi-disciplinary innovation for social change". She is a national rapporteur for the European Commission's report on Mapping of Social Enterprises and their eco-system in Estonia. She is also an evaluation expert for Horizon 2020 and Erasmus calls in the fields of SMEs, higher education and innovation. 
ProVaHealth project: https://www.tlu.ee/node/98460
CoSIE project: https://cosie.turkuamk.fi/cosie/
Program:
at 17.00 Registration and welcome coffee
at 17.00.-18.30 Research Seminar, presentation by associate professor Katri-Liis Reimann, followed by joint discussion.
Moderator: professor Peeter Selg, head of the SOGOLAS research collegium.
Additional information: Koidu Saia, Koidu.Saia@tlu.ee, tel 6199 944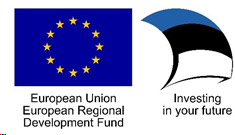 Activity is financed by the European Regional Development Fund through the institutional package measure for R&D institutions and higher education institutions (ASTRA project TLU TEE of Tallinn University) and is organised by Doctoral School of Behavioural, Social and Health Sciences