Applications for Kino Eyes 2024/2026 intake are now open
Kino Eyes is a two year Joint Master programme with a brand-new highly intensive fiction film making supported by ERASMUS+, the European Union's education body.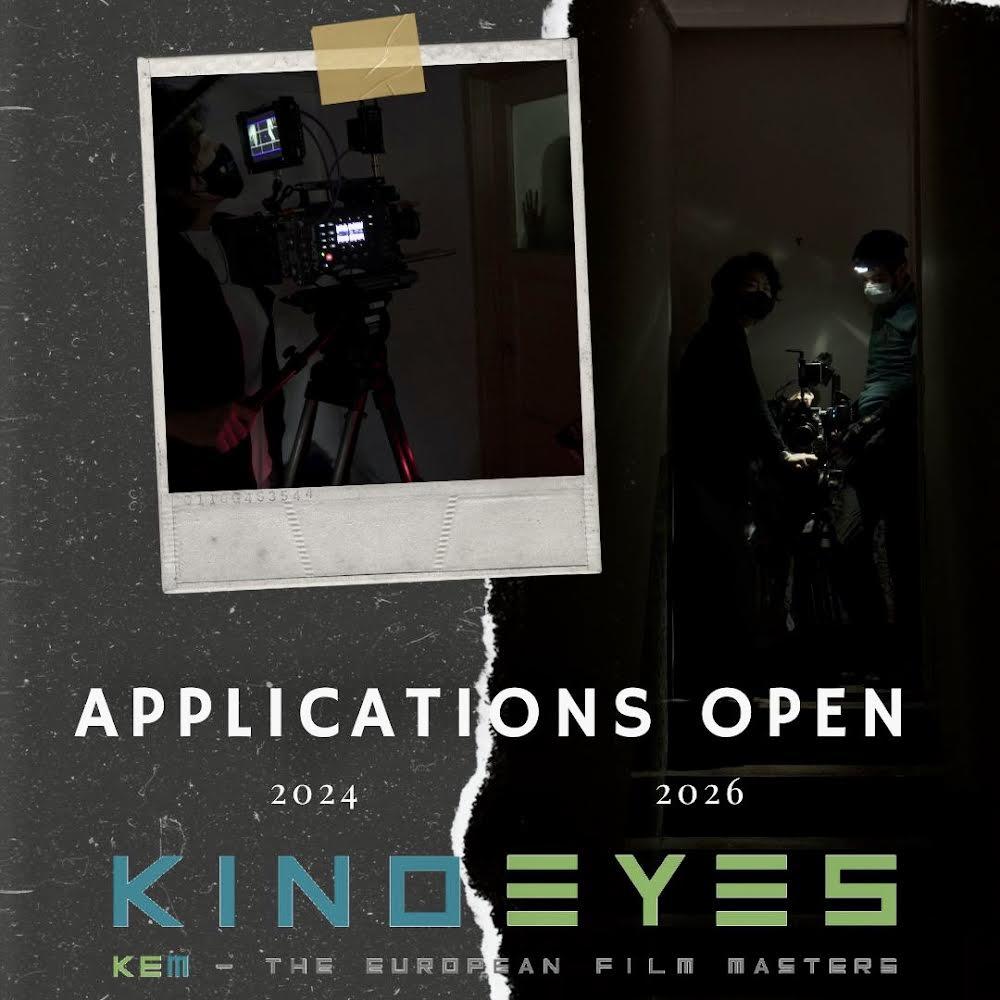 The programme takes the form of four semesters teaching, along with a summer school. The teaching is unique for a filmmaking MA in that it is split between four different film schools in four different European states. Also unique is the programme's focus on the long-form fiction (feature Film and Series) as the object of study and aspiration, rather than the short film, as in most other courses. 
Students will be recruited in the following areas: 
Directing
Producing
Scriptwriting
Cinematography
Editing
Sound Desing
Around half the teaching will be geared to each specialism, while the rest will consist of transferable skills in filmmaking, creative practice, entrepreneurship, and critical thinking - skills that are essential for all film students. 
Students will study in four different schools: 
Lusófona University in Lisbon, Portugal
Screen Academy Scotland in Edinburgh, UK
Baltic Film, Media, Arts and Communication School / Tallinn University in Tallinn, Estonia 
National Film School at the Institute of Art, Design and Technology, Dun Laoghaire, Dublin, Ireland (IADT)
The core outcomes of KEM are the students' final projects - a short film, a complete team-developed project for a feature film or TV series, and the individual thesis.
First semester the students all work together in Lisbon and consists of a leveraging period during which collaboration and team building capacities will be reinforced. In the second semester, students will be divided between Tallinn and Edinburgh in accordance with their areas of expertise. Writers, directors and producers go to Edinburgh while cinematographers, editors and sound designers will be in Tallinn. In the 3rd and 4th semesters, the students are divided between four schools: Dublin, Lisbon, Edinburgh, and Tallinn. Mobility between the schools is mandatory.
The programme is financed by Erasmus+ program. Scholarship position covers the study fee, travel costs, and subsistence costs. In the case of self-paying positions, students can apply for local scholarship opportunities. Final-year BA students should indicate in their application that they are graduating in spring 2024 and submit their transcript record.
More details about the scholarship can be found here: http://www.kinoeyes.eu/admissions/scholarships/for-students
Applications open from October 01 2023 to December 12 2023.
More info: http://www.kinoeyes.eu/
Application requirements: http://www.kinoeyes.eu/admissions/application-requirements?fbclid=IwAR0rnD_1pF6CZpXSmBnoPZpGKIf2M_hDis58nm4iYZ9FmyyeSCX3dqukClQ
Students of BFM Film BA and Audiovisual Media BA program like Doris Tääker, Emeri Abel, Kristo Kaas, Veli Valentin Rajasaar, Mauricio Sanchez Garza, Ragne Mandri, Helena Kõiv, and Max Mikkilä have also been part of the Kino Eyes program.
KinoEyes alumni are actively working in the industry or continuing their studies for PhD. Some other notable alumni are writer & director Lkhagvadulam Purev-Ochir whose short film Mountain Cat was nominated in Cannes, Toronto, Sundance & Busan and her Feature "City of Wind" was nominated for Veince horizons this year, awarded best actor. Screenwriters Bojana Babic & Lucas Abrahão ("Upurga"), cinematographers Krish Makhija (Oscar-winning short documentary "The Elephant Whisperers"), Vishal Vittal (Bollywood film "Thalaivi"), sound designers Israel Bañuelos ("Life of Ivanna", Estonian films "Sundial" and "The Last Relic") & Gabriel Solis ("Dark Paradise, "Loss of Something Ever Felt"), post-production producer Noorahaya Lahtee (production manager of "Call Me by Your Name"), editor Zsófia Ördög ("Not a Thing") and many more.