Well-Being and Health Behaviour, M.A.
Are you eager to learn about people and their concerns and emotions? Would you like to know how to approach and measure a person's well-being in a science-based way? Are you ready to find solutions in the future to help people live healthier lives and prevent premature illness? Come and learn new valuable knowledge that contributes to your current speciality, and with relevant knowledge and experience it is possible to influence the individuals and health situation in your community through health promotion processes and team leadership.
Well-being and its management is a growing industry based on evidence-based theories of healthy living and disease prevention. Knowledge of the bases of people's well-being and how it is achieved is an important area to work on, contributing to the functioning of a society that supports human development and well-being.

Our previous president of Estonia Kersti Kaljulaid has emphasised in her speeches that it is time for Estonia to become a caring welfare state. This is proved by the government's efforts to alleviate poverty, reduce social exclusion and support an active civil society; to ensure that every individual receives free education according to their ability and to support interpersonal tolerance and protection of human rights; to encourage people to cooperate for a satisfying and dignified life; and to follow the principles of caring and helping the weakest in social policy.
Why should you come to study?
Estonia's activities in promoting its population's health, carrying out health research and providing for more than 20 years systematic community-based health promotion with health services, as well as relying on widespread use of e-services, allow us to share our experiences with citizens of other countries. Mostly people from countries with similar social structure and economic development come to learn about the processes we have carried out. 
The science-based design of environments that help improve workplace wellness and workplace happiness is increasingly being addressed in Estonia and across Europe; in the same way we can design wellness in teams or in groups of other people working together in the community. On a service basis, it is possible to share recent experience (both in Estonia and in the EU) with companies in other countries where a modern workplace culture is emerging and knowledge of working in a multicultural work environment needs improvement.
We believe that our programme contributes to your current speciality, and with relevant knowledge and experience it is possible to influence the individuals and health situation in your community through health promotion processes and team leadership.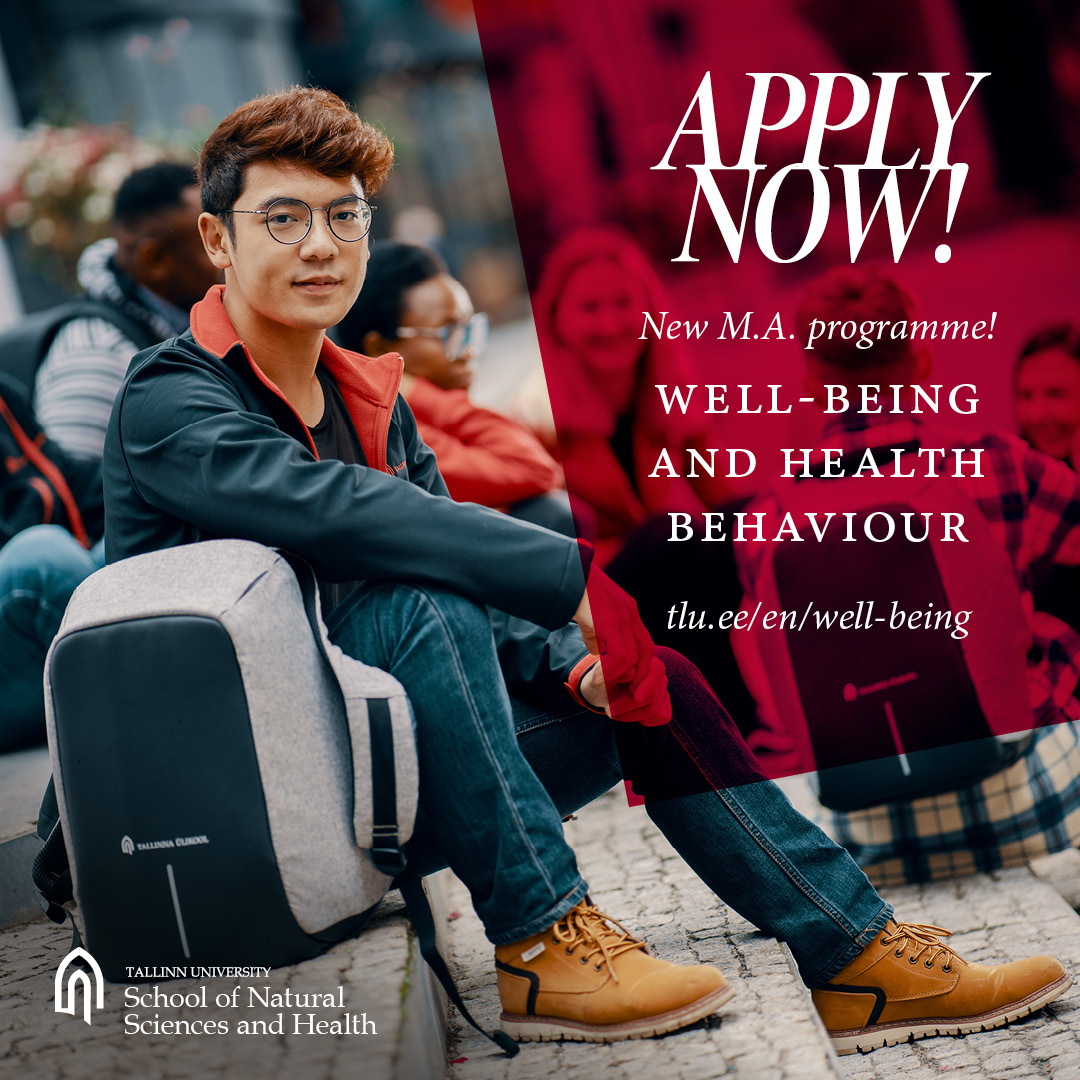 Who are we looking for?
Our target group is specialists with a Bachelor's degree in the field of education, social sciences, business and administration, natural and exact sciences, health and well-being.
As the Master's thesis and the entire study programme are science-based, it is expected that the candidates have produced a thesis for a Bachelor's degree which involved an empirical part. Therefore, students with a Bachelor's degree in humanities and specialities that do not include a science-based approach to empirical research (finance, history, law, languages, culture, art, etc.) are not suitable for this study programme. Our studies are based on international practice, where Master's theses in the well-being and health behaviour study programme require empirical research or the use of large databases in various areas of well-being and health behaviour (from individual to social policy level).
The study programme focuses on the non-medical (not based on treatment by doctors) approach to health: lifestyle, attitudes, work capacity, environment, personality, habits, ethics, research, evaluation and implementation of interventions. As a target group we see students from Estonia and other countries who want to gain learning experience in the field of health and well-being in Europe. Citizens from developing countries can primarily benefit from these studies and apply the knowledge acquired to further the well-being in their country.
School of Natural Sciences and Health
During the programme, the students are taught the principles of carrying out research and its practical application to pursue a career in higher education, research and development institutions and in health care system by integrating knowledge with health technologies that meet present-day expectations, taking into account the peculiarities of health administration.
View curriculum
School of Digital Technologies
If you want to know how exactly humans and computers interact with each other then this study programme is for you! The Human-Computer Interaction curriculum brings together computing, interaction design and cognitive psychology. It offers a research-based approach to designing interactive, software and technical systems. After finishing this programme you will have chance to become a discerning user experience professional, a knowledgeable interaction designer, or a scholarly design researcher.
View curriculum