Estonian Sociolinguistic Insights: An Erasmus+ Lecture Series at the University of the Basque Country
From November 13 to 17, 2023, at the Universidad del País Vasco / Euskal Herriko Unibertsitatea (UPV/EHU), University of the Basque Country, Professor Anastassia Zabrodskaja from Tallinn University gave lectures on a diverse range of topics related to language, multilingualism, and intercultural communication.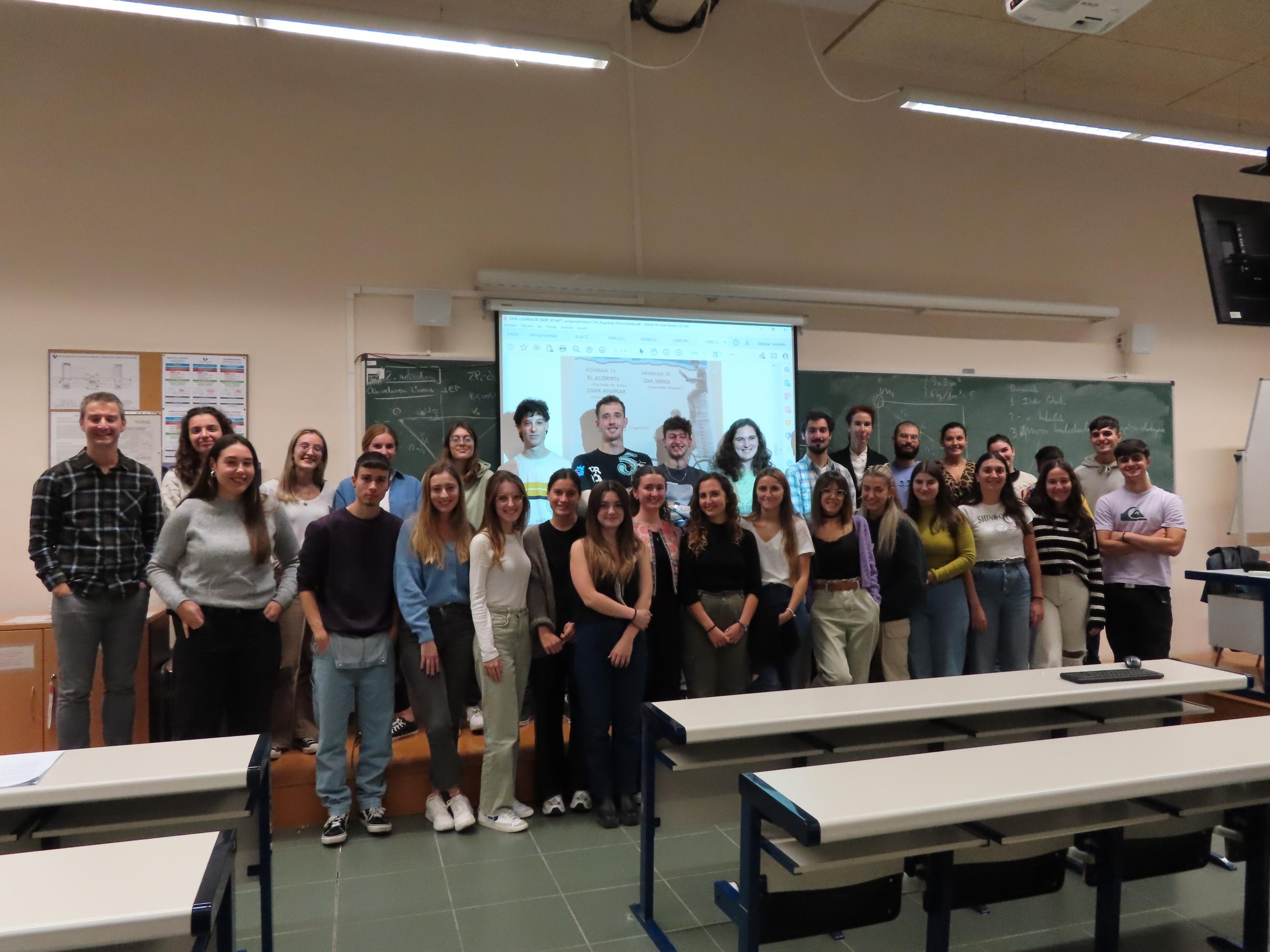 Professor Zabrodskaja's Erasmus+ lectures offered a comprehensive exploration of language-related issues, ranging from the national linguistic landscape to the intricate dynamics within multilingual and migrant families. The inclusion of the COVID-19 pandemic context added a timely and relevant dimension to the discussions, highlighting the impact of global events on language use and policies.
Her lectures, entitled 'Estonian Multilingualism: Estonian Linguistic Landscape as a Mirror of the Estonian Language Situation', explored the linguistic diversity within Estonia, showcasing how the country's linguistic landscape reflects broader language dynamics. The Erasmus+ teaching week also included the supervision of students from the University of the Basque Country to collect and examine multilingual perspectives in the linguistic landscape of Vitoria-Gasteiz, Bilbao, and other nearby places.
Her lecture-seminar on 'Family Language Policies of Multilingual Families during the COVID-19 Pandemic: Evidence from Cyprus, Estonia, Germany, Israel, and Sweden' focused on the language policies adopted by multilingual families during this challenging period in different countries. It involved a comparative analysis, exploring how diverse cultural and linguistic contexts influenced family language strategies during the pandemic. This lecture was based on a recently published article in Languages. You can access the article by clicking here. A meeting with the ELEBILAB group, the Bilingualism Laboratory Research Group attached to the University of the Basque Country, which studies language, school, and family plurilingualism from various perspectives (social and psychological, focusing on both children and adults, and examining discourse and grammar), was filled with engaging discussions.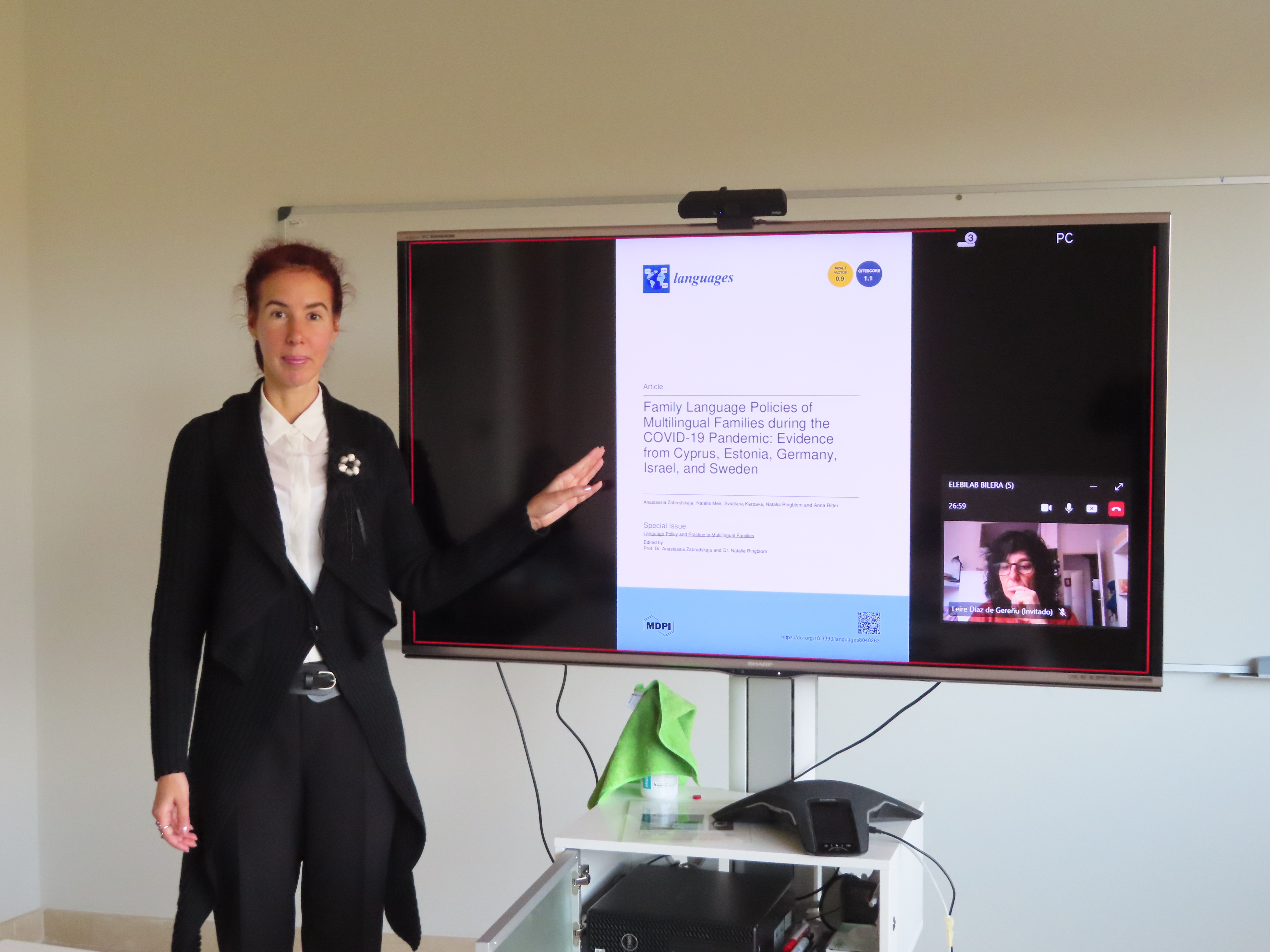 The Erasmus+ cooperation represents a fruitful outcome of scientific collaboration. In the near future, Professor Anastassia Zabrodskaja and Dr. Anik Nandi, currently a Postdoctoral Research Fellow at ELEBILAB, will publish a special issue entitled 'Family as a Language Policy Regime: Agency, Negotiation, and Local Practices' in the journal Sociolinguistic Studies. This issue includes articles on Parental ideologies in multilingual family language policies in the Basque Autonomous Community (by Maite Garcia-Ruiz, Ibon Manterola, Ane Ortega), Digital technologies and reported language practices within Russophone families in Estonia, Germany, and Sweden (by Natalia Ringblom, Anna Ritter, Anastassia Zabrodskaja), and Family dynamics towards heritage language maintenance: The case of Indian transnationals in Northern Ireland (by Anik Nandi).
ERASMUS+ teacher mobility between TLU and UPV/EHU will continue in 2024. Dr. Ibon Manterola will be coming to TLU BFM to teach and share experiences with the Master's students of the Communication Management program.
On the cover photo, you can see Dr. Ibon Manterola and Professor Anastassia Zabrodskaja with a group of students from the Universidad del País Vasco / Euskal Herriko Unibertsitatea, Hizkuntzalaritza eta Euskal Ikasketak Saila / Department of Linguistics and Basque Studies.
To obtain further information, please feel free to reach out to Dr. Anastassia Zabrodskaja. She holds the position of Professor of Intercultural Communication, serves as the Head of the MA program in Communication Management, and is the Executive Director of the European Masters in Intercultural Communication. You can contact her at anastassia.zabrodskaja@tlu.ee.